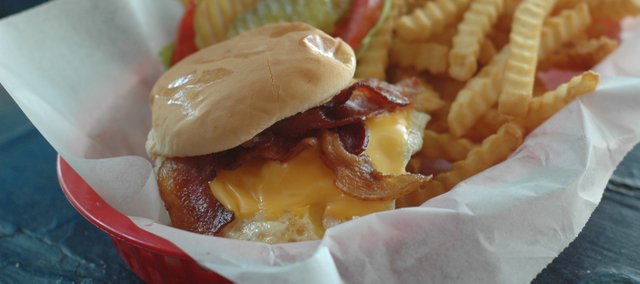 Thursday, August 29, 2013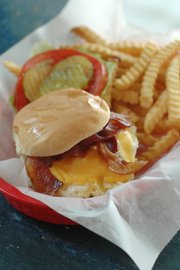 Food and drink website The Daily Meal just named the Wagon Wheel one of its "25 Best College Bars in America," touting its No. 3 pick as a place for a good time, cheap drinks, greasy pizza, outdoor Final Four game-watching and signing your name on the bar with a Sharpie — all true.
But the writeup didn't include what's probably the Wheel's most famous offering: The Wang Burger. ESPN crews visiting Lawrence for KU games have been known to hit the Wheel to chow on these unpretentious white-bun burgers topped with a fried egg, bacon and cheese — and sometimes even profess their love for them on air.
How did it come to be called the Wang Burger? According to KU Info, this burger was born back in the '70s when a Sigma Chi fraternity member nicknamed "The Wanger" asked for a fried egg on the Kappa Burger (see below). KU Info's report does not include how "The Wanger" got his nickname, and if it had anything to do with a late night at the Wheel maybe that's for the best.
Where to get it: The Wagon Wheel, 507 W. 14th St.
What you'll pay: $4.75 ($6.50 with fries on the side).
Try it with: A cold beer and a KU game — or the next day's hangover.
Also on the menu: Other burgers including the Dinger (a patty melt on rye) and the Kappa (cheese, bacon, lettuce and tomato), chicken tenders, B.L.T.s, pulled-pork sandwiches and a two-egg breakfast.
— Off The Beaten Plate highlights some of the more exotic, oddly named or inventively concocted dishes from local menus. Know of an offbeat item we should check out? Email food and features reporter Sara Shepherd at sshepherd@ljworld.com. Follow her at Twitter.com/saramarieshep.