Thursday, August 29, 2013
It's about that time again to pack up your summer clothes and fill your closet with fall's finest trends.
Although the air isn't quite crisp and cool, you can still slowly introduce the trends into your wardrobe. It's exciting to see all the new arrivals the stores roll out for fall.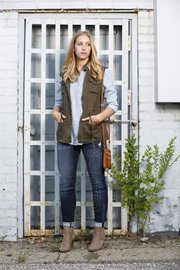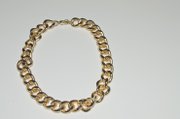 I've been scoping out some of my favorite stores, and this season is all about layering, casual boots, darker colors, leather, textured fabrics and denim.
Ease in
As I said before, slowly introduce fall styles into your looks.
Mixing ankle boots with a cute fall-like dress is an easy way to sport this season's trends in the end-of-summer heat. Then as the weather cools down, you can add tights or leggings and a cute jacket.
I found a dress from Eccentricity on Mass St. with a jacquard pattern and short sleeves. It has the perfect amount of structure and looks totally on trend with my ankle boots.
You can add a bit of brightness with a statement necklace, and balance everything out with a neutral clutch and bracelet. Mixing neutrals like navy and brown is a great way to unexpectedly change up the color scheme of your look. There are a lot of neutral colors popping up for fall, so don't be afraid to mix them up a bit.
Layer up
Layering is a simple way to add depth and dimension to your outfit. If done right, you'll be right on trend this season.
I love mixing different textures because, again, it's unexpected, which makes you stand out in a good way.
Elizabeth perfectly layered a super soft chambray shirt with a studded green military vest. A vest is definitely a staple piece for fall that you can wear now and when the temperature drops. There are many vest styles this season, including denim, leather, moto style, oversized and fitted.
I love the green military style because its neutral color makes it simple to dress up or down, and that's important when building your fall wardrobe.
Don't forget denim
Denim is and always will be a fall staple.
There are several styles out there, so it can be difficult when searching for the perfect pair. Skinny jeans are my go-to style because you can wear them with just about any shoe, whether flats, ankle boots, riding boots, heels, etc. Boyfriend jeans will also make an appearance for fall. These are slouchy-style jeans with a loose fit.
The details of the jeans will stand out the most this season. Destroyed and embellished jeans are the way to go because they are fun and unique.
I love the jeans Elizabeth picked out because they have a cool stitched pattern that creates an updated look to basic skinny jeans.
Rolled hems add a cool, casual vibe when paired with ankle boots.
Lots of leather
If you're looking to add a sleek edge to your outfit, go for the leather. Leather jackets are typically the easiest way to accomplish this.
As mentioned before, mixing textures is the way to go this season. Pairing leather with a delicate fabric like lace is the perfect way to balance out an edgy look. But if you're a little more adventurous you can look for leather pants, leggings or even all-leather dresses.
But no one wants to wear leather in 80- or 90-degree weather. So if you really want to don your leather piece right now, look for a leather vest to layer over your tanks and dresses. You can use it later by layering over your long-sleeved shirts.
Accessorize in style
There are two types of accessory styles floating around this fall: the in-your-face accessory and the understated accessory. I prefer to switch things up and wear both, depending on the day.
I love chunky watches with rhinestone detailing, but I'm also obsessed with thin, subtle rings. Long crossbody bags and structured bags are on my radar for fall, but I can't forget the statement necklace. I throw on a statement necklace when I want my outfit to pop. I leave dainty necklaces for when I'm feeling laid-back and casual.
— Emily and Elizabeth Kennedy are twin sisters and fashion bloggers who share a blog called Fashion Column Twins. They can be reached at fashioncolumnblog@gmail.com.