Thursday, August 29, 2013
Julie Dunlap is hoping the second time is even better than the first.
Not that the first time was bad.
"We sold out 10 days beforehand, and it was very well-received," she says of her musical comedy, "Mother%$!#hood."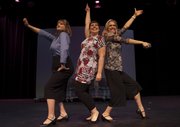 If you go
"Mother%$!#hood" opens Friday and runs Saturday and Sept. 6 and 7. Curtain is at 7:30 p.m. Tickets cost $25 plus fees and are available by calling the Arts Center box office at 785-843-2787 or online at lawrenceartscenter.org. The show contains mature humor and isn't for children.
The show, co-written with fellow Kansas University alumna Sara Stotts, received a staged reading at the Lawrence Arts Center back in April and now gets a full production opening Friday.
"When we saw how well it played, we just knew we wanted to be involved in producing it," says Ric Averill, the Arts Center's performing arts artistic director. "We made the decision within days after the staged reading."
Envisioned as an affectionate and irreverent look at "the world's second-oldest profession," the musical follows three very different women on their journeys through modern motherhood.
"Sara and I really hoped it would appeal to moms aged 25 to 55," Dunlap says. "We didn't expect men to be sobbing (during some of the show's more poignant moments)."
That was one of the things they were delighted to discover during the staged reading: The show had broad appeal.
"Ultimately, we want to see it entertain people across the country," Dunlap says of Stotts' and her ambitions, noting they have a producer in Chicago putting together a professional demo album of eight of the musical's songs.
But if Dunlap and Stotts were thrilled with the reception they got in April, they are committed to making the show even better. They had a questionnaire for audience members to fill out at the staged reading asking for favorite moments, least favorite moments and suggestions for improvement.
"Out of 20 songs, 16 made someone's favorite list," Dunlap says.
They've incorporated suggestions to improve the show, trying to keep the emphasis on humor.
"If it isn't funny, we don't want it in the show," she says. "It's comedy; we don't want it to be sad or depressing."
Of course, there is a big difference between a staged reading and a full production. Dunlap is directing "Mother%$!#hood" — something she hasn't done since working on "Rock Chalk Revue" back in college.
"This time we have rolling flats, levels, shadow dances," she says of the staging elements that weren't present in the reading. "I actually get to design these things (set, sound, lights and costumes)."
She also knows she can't do it herself, relying on her technical directors and designers.
"I know what it should look like in my head, but I have no idea how to make it real," she says. "It's so nice to have people who really know what they're doing take it and run with it."
Using their professionals to help develop new, local art is part of the Arts Center's vision.
"The Lawrence Arts Center is about working with local artists," Averill says. "We are all about creating new works."
"I just can't imagine," Dunlap says, "there's a city anywhere else on Earth that has the resources and passion and kindness to let someone with a completely unproven track record put on something like this."
"Mother%$!#hood" is back for a second, fuller look. Dunlap is hoping for an even better reception. Averill is confident she'll get it.
"Julie is a wonderful writer with a real Erma Bombeck quality," he says. "We're really pleased to be working with her."