Thursday, August 29, 2013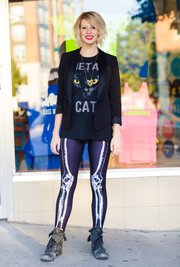 Name: Alexandra Gustafson
Age: 21
Relationship status: Yes, I'm in one.
Hometown: Saskatoon, Saskatchewan, Canada
Time in Lawrence: A year.
Occupation: I'm an English lit major and a T-shirt maker at ACME.
Dream job: I'm working on my undergrad right now. Then, I'm going to get my masters in English lit and I hope to work in a museum for American literature.
What were you doing when scouted? Making T-shirts!
Describe your style: I'm not sure. I wear a lot of leggings ... and a lot of black.

Fashion trends you love: Leggings, obviously! I'm a big fan of combat boots, layers and red lipstick.
Fashion trends you hate: I really hate the buns on top of the head. I'm not a fan.
Fashion influences: There is one website that I really like: it's an Australian company called Black Milk. They actually made these leggings but they do a bunch of really cool patterns and stuff like that. That's where I get a few styling tips.
What would you like to see more of in Lawrence? Nothing comes to mind.
Less of? I'd like to see less of the pink T-shirts and running shorts that all the girls are wearing in school.
Tattoos or piercings: Yup, I have three tattoos. One tattoo is made up of swallows that I got for my sister.
Whom do people say you look like? When I had longer hair I got January Jones or Claire Danes.
What type of music do you unwind to? I actually listen to a lot post hard-core like Screamo, which calms me down.
Tell us a secret: I did not know how to ride a bike until recently.
More like this story on Lawrence.com