Thursday, December 5, 2013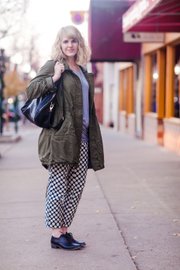 Age: 31
Relationship status: Married
Hometown: Cedar Rapids, Iowa
Time in Lawrence: Four years maybe.
Occupation: Librarian
Dream job: If I weren't a librarian, I think it would be really fun to have some kind of job in design.
What were you doing when scouted? Just leaving The Dusty Bookshelf book store.
Describe your style: Lately, it's been clean, simple lines with a little pop of something that is fun.
Fashion trends you love: I love Oxford shoes. I got some on right now. I also like bold patterns and stripes.
Fashion trends you hate: I'm kind of "whatever floats your boat" — wear what makes you happy!
Fashion influences: I love reading fashion blogs. There's a girl who has a fashion blog called Le Blog de Betty that I've been following since 2008. Her name is Betty and she lives in Paris. She's my ultimate style muse. She'll throw on like a Michael Jackson "Thriller" jacket every once in awhile but other times her style is really low-key and understated.
What would you like to see more of in Lawrence? A couple of years ago I would have said more good shoes, but Foxtrot has that covered. But anytime you can add more awesome shoe stores, I'm all for that. I'd also like to see more late-night street food.
Less of? Giant packs of people crowding the whole sidewalk during gameday. I love KU sports, but let me down the sidewalk!
Tattoos or piercings: Nose and ear piercings, and three tattoos, including a sailor-style "Mom" tattoo on my right forearm
Whom do people say you look like? Every once in awhile, I hear Emma Watson, especially when my hair was long.
What type of music do like? I really like pop music like power pop and electronic. Lately, I've been in a kind of a Beyoncé/Destiny's Child kind of throwback. But I also love rap and hip-hop.
Tell us a secret: Well, I'm a Scorpio and I do have a secret Scorpio handshake.