Thursday, December 12, 2013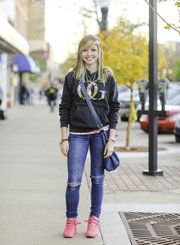 Age: 17
Hometown: Lawrence
Favorite subject: Art
Dream job: I'd like to have my own snowboard company and then start a magazine where I can sell clothing like (the brand) Neff Beanies.
What were you doing when scouted? Walking to Third Planet to meet some friends.
Describe your style: Jeans, hoodies and multicolored hair.
Fashion trends you love: Skinny jeans, colorful clothes, fluffies and winged eyeliner.
Fashion trends you hate: Country — cowboy hats or boots!
Fashion influences: I see certain things that I like everywhere, so I just take them and put it into one style. I can't label myself with a specific style.
What would you like to see more or less of in Lawrence? Nothing comes to mind.
Whom do people say you look like? Sam of "iCarly."
What type of music do you like? EDM (electronic dance music), dubstep, rock, post-hardcore and hip-hop.
Tell us a secret: My cat Squirtle is my best friend.
More like this story on Lawrence.com