Sunday, December 22, 2013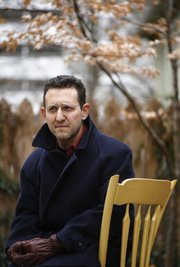 "It's just a Volkswagen," the line reads in the first paragraph of local writer Gregg Primo Ventello's essay. A Volkswagen Passat he affectionately calls "Das Schweinehund," which translates literally as "pig-dog."
"It's a nickname I gave my car because I hated my car," Ventello says. "Schweinehund is an expletive in German. It was a strange odyssey owning this car."
Ventello's "Das Schweinehund" was recognized as a Notable Essay in "Best American Essays 2013."
Written in the second-person narrative voice, the piece opens with Ventello deliberating the purchase of this German car from his sister-in-law who offered it for a reasonable price. As a mechanic's son, he knew better than to invest in a car so difficult to repair on his own and much too expensive to maintain. But despite his dad's warning about German cars, he couldn't resist.
"It was more car than I could have ever possibly afforded," Ventellos says. "It had leather, heated seats and a 12-speaker stereo and all kinds of crazy stuff."
The essay comically details the many mechanical problems he inevitably encounters and his attempts at saving money while ignoring the only piece of advice the Volkswagen manual offers: taking the car to the closest Volkswagen dealer, for specific Volkswagen parts, and, in one instance, using only a specially made Volkswagen tool.
Ventello was inspired to write this essay after reading a work by Thomas Kennedy in UMKC's quarterly New Letters.
"He wrote this essay in second person about trying to have his prostate diagnosed and just the awful stuff that he went through, and it was a really funny essay," he says. "And I thought, I can do this with the Volkswagen."
After sending the essay to 12 publications and receiving rejection letters from all of them, Carolina Quarterly in North Carolina published it in last year's Spring/Summer issue.
"If there's a lesson there, it's that not every editor's opinion matters," Ventello says. "I knew it was a good essay. Not only because I worked so hard on it, and from what I know it seemed like a good essay."
Another one of his essays, "The Commuter," about the drive he makes every day from Lawrence to his job in Kansas City, Kan., was picked up by New Letters and nominated for a Pushcart Prize, a literary award by Pushcart Press that honors the best poetry, short fiction or essays published in the small presses.
Ventello teaches English, African-American literature, composition and gender studies courses at Kansas City Kansas Community College. While he loves teaching, he dreads his drive to work, simply because he hates being in a car.
"'The Commute' was written as a metaphor for our lives," Ventello says. "This narrative about how how unfortunate it is to spend as much time as we do in our cars. I'm a son of a mechanic and I have this love-hate relationship with cars. If I could eliminate them from my life, I would.
"I have a number of pieces where cars play this important part, but I think I'm being more critical of our culture than anything else."
Growing up in a large Italian family surrounded by aunts and uncles who'd share stories has given him a greater appreciation for storytelling. He credits his writing skills to the excellent teachers and writing programs he had in South Jersey, where he grew up.
He hopes to publish a book of essays, already having more than enough material, but no clear direction of the overarching theme. His goal is to get a handle on narrative writing, both with fiction and nonfiction pieces.
Deciding whether it's one cohesive volume will come later, Ventello says.
The only intentional move he's made is writing bookends for it, he says. The first essay is "The Commuter" and the last essay is about the commute back to Lawrence called "Strada Del Morte" or the street of death.
"I'm not in any rush," he says. "I enjoy doing what I'm doing."