Monday, December 23, 2013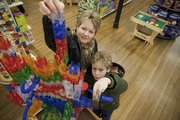 Hot gifts
Need ideas? For you last-minute shoppers, here are a few items that have been selling well at downtown Lawrence stores.
• The Toy Store, 936 Massachusetts St.: Rainbow Loom friendship bracelet maker, Kinetic Sand and Q-Ba-Maze, a kit to create your own marble runs.
• The Etc. Shop, 928 Massachusetts St.: Brighton and Hobo brand leather handbags and antique Native American jewelry. (Etc. Shop also lets customers fill out wish lists, which general manager Erin Adams notes have been a big help to many husbands.)
• Phoenix Gallery, 825 Massachusetts St.: Ceramic vegetable steamers and other cooking vessels, artisan jewelry and handmade watches.
• Wild Territory Science and Nature Store, 942 Massachusetts St.: Science T-shirts, insects in shadowboxes, rocks and stones and science kits for kids.
• Sunflower Outdoor and Bike Shop, 802 Massachusetts St.: SmartWool socks, fleece pullovers, winter bicycle riding apparel and — a classic Christmas gift — kids' bikes.
• ToToTrains, 1031 Vermont St.: Battery powered trains for kids 3 and up, starter sets and HO-scale military items.
About 10 percent of you will still be shopping for gifts on Tuesday (yep, that's Christmas Eve), a National Retail Federation holiday survey estimates.
As for the rest of us, local retailers can tell we've been checking off our lists. Businesses in downtown Lawrence, the city's local retail hub, say it's been a good season — maybe not a blockbuster, but definitely good.
"This Christmas season compared to the previous three or four has been excellent," said Jan Brocker, owner of ToToTrains at 1031 Vermont St.
Downtown Lawrence Inc. director Sally Zogry said Black Friday and Small Business Saturday sales were brisk but that traffic seemed sparser than usual during the following weekend's Old-Fashioned Christmas Parade, when the day's high reached just 24 degrees.
After that cold snap broke, shoppers seemed to reappear, said Jhami Guffey, manager at the Toy Store, 936 Massachusetts St.
"It's almost like the winter air, cold temperatures, were slowing people down, and they're all here now," he said last week.
Sue Shea, manager at the Phoenix Gallery at 825 Massachusetts St., said she's heard more customers talking about shopping local.
"People are very conscientious about where their money's going," Shea said. "That's exciting for us, and it's exciting for downtown as a whole."
Nationwide, forecasters predicted this year's holiday sales would increase slightly over last year's. The National Retail Federation is estimating 3.9 percent growth, a slight increase over the 3.5 percent holiday sales growth seen in 2012.
This shopping season — starting with box stores getting a jump on Black Friday by opening Thanksgiving Day — has been the most discount-driven one since the depth of the Recession, the Associated Press reported. The amount of discounts stores are offering is up 13 percent from last year, the AP reported, and many retailers added big sales the last weekend before Christmas.
Advertisements in last week's Journal-World reflected that, with last-minute "door busters" and discounts up to 60 percent at large chain stores stuffing the paper.
Most local businesses don't rely on the same kind of in-your-face discounts. At the Phoenix Gallery, for example, "We can't really wheel and deal with artists' work," Shea said.
Another national trend has been reflected downtown: gift cards are big.
"I cannot keep up," Zogry said of Downtown Lawrence gift cards. Good at more than 120 restaurants and retailers, cards are sold at the Downtown Lawrence office, Weaver's and Douglas County Bank locations.
Zogry said she replenished stock at her office and Weaver's at least twice since Thanksgiving and delivered 200 more cards to the bank last week, where they're selling 10 to 20 at a time.
Business owners are buying the cards as gifts for employees, Zogry said, but they're also a practical option for relatives and friends.
"It's great to get your sister another pair of earrings," she said. "But it's sort of nice to let them get something they really want — maybe something that's a treat they may not know they want."