Thursday, December 26, 2013
Not sure yet where to make your toast to 2014? From restaurant specials to live shows, Lawrence lights up with many options on New Year's Eve. Don't let cover charges or late nights scare you from making plans. There's something for everyone this year:
Pachamama's five-course dinner
It's not always about making it to midnight. Enjoy instead a fine-dining experience with Pachamama's (800 New Hampshire St.) annual New Year's Eve prix fixe dinner. To start the evening, toast to the new year with sparkling wine, followed by small bites of Duck Prosciutto Crostini, house gravlax, and Hoppin' Johns Fritter with a maple glaze. Save room for four more delectable dishes including lobster shellfish pot pie and dry-aged Kansas ribeye of beef. A flourless chocolate torte will conclude this exquisite dinner with something sweet.
Dinner is $75 per person, which includes a complimentary glass of wine. With wine pairings for each course, dinner is $100 per person. Call ahead to make reservations at 785-841-0990. The kitchen closes at 9:30 p.m.
Genovese three-course dinner
Five dishes too much? A more modest but equally decadent three-course meal is available at Genovese brought to you by Chef Armando. The menu starts with a creamy lobster soup, moves on to pan-roasted diver harvested sea scallops wrapped in house-made pancetta or filet mignon with lobster Parmesan sauce, and ends with cannoli with fresh ricotta and dried fruits.
Dinner is $55 per person. Wine pairings with each course are an additional $12 per person. Genovese, 941 Massachusetts St., is known to get booked solid this time of year so make reservations early at 785-843-0300.
Eldridge and Merchants Pub and Plate
Both restaurants' chefs have special New Year's Eve menu items in store for the night and recommend, but don't require, reservations.
The Eldridge, 701 Massachusetts St., will keep the kitchen open until 11 p.m., serving specialty steak, seafood and pasta options, and plans to extend the bar hours until 2 a.m. Feel free to have a sophisticated drink or three at the Jayhawker bar.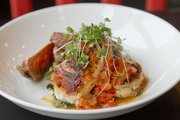 Merchants Pub and Plate, 746 Massachusetts St., will keep the kitchen open until midnight, with a limited menu of New Year's Eve dishes that are still being finalized. Without the fear of falling into a deep sleep after a few courses, enjoy a late meal, drinks and conversation among a few friends.
New Year's Tease at Liberty Hall
For a night of naughty nature, Liberty Hall, 644 Massachusetts St., is putting on a "scintillating evening" of risque burlesque entertainment, ringing in the new year with the Lawrence Burlesque Collective. A variety of independent dancers from the Lawrence and Kansas City area are prepared with more than an hour of tastefully revealing routines.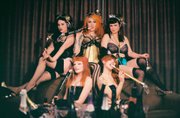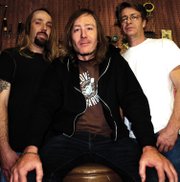 Along with these scantily-clad ladies, Kansas City's underground hip-hop artist Approach, rock band Hissyfit and DJDG Boogie will provide music. Must be 18 or older to enter. Doors open at 8 p.m. and the show begins at 9. General admission tickets are $13.
Split Lip Rayfield at the Bottleneck
After a year hiatus, Split Lip Rayfield is back with a vengeance, bringing some throwback jams from past albums and new material to the Bottleneck, 737 New Hampshire St. This powerhouse punk-bluegrass trio from Wichita has played more than a few New Year's Eve shows at this venue, always providing an electric atmosphere for the occasion, says banjo player Eric Mardis. For a truly unique experience, check out the one-string gas tank bass Jeff Eaton made, probably accounting for the meaner and more aggressive side to their traditional acoustic country influences.
Granny Tweed from Colorado and local progressive bluegrass band The Sunflower Colonels will start the evening. Tickets for are $26 for 18 and up. The show starts at 8 p.m., and includes a champagne toast at midnight.
Team Bear Club at Eighth Street Taproom
If you're looking for a packed room of sweaty dancing to innovative beats by some of Lawrence's finest DJs, Team Bear Club is providing that rave vibe at the Taproom, 801 New Hampshire St. This particular option is definitely catered to the college-aged crowd, photos from the latest Bear Club "Mingle" dance party this month drawing in hoards of young people fueling up on PBR and getting down to mixes by DJs Reggie Scott Smith, Maal Maal and Tom Richman.
Standard $3 cover charge at the Taproom door, so if inexpensive and rowdy are on the checklist this year, this might be the best bet. The party starts at 9 p.m.
DJ Jacob Diamond at Frank's North Star Tavern

For a more mature crowd that still likes to get down, head to North Lawrence's Frank's North Star Tavern, 508 Locust St. It will likely be less sweaty. DJ Jacob Diamond will be playing mixes upstairs for the second annual New Year's Eve party. There is a $5 cover charge, which includes a midnight champagne toast. Might be worth it to get away from the Mass. Street bar scene for a change of pace for the holidays. Festivities start at 9 p.m.
The Crumpletons and Majestics Rhythm Revue at Jazzhaus
New Year's Eve at the Jazzhaus, 926 1/2 Massachusetts St., must have been perfection last year because they've got the same lineup in store for this year. The Crumpletons are set to perform old-school rock for the early show at 7 p.m., with a ball drop at 9 for those who can't bear to keep their eyes open until midnight. It's midnight somewhere else in the world; celebrate with those guys. Cover charge is $7.
Part two features six-piece, multi-genre dance party band Majestics Rhythm Revue at 10:30. This fusion of blues, funk and R&B; by an eclectic group of musicians includes funky originals as well as infectious covers. Cover charge is $10.
Spud Patrol, Stay Sick! and Dean Monkey and The Dropouts at Replay Lounge
The Replay Lounge, 946 Massachusetts St., is putting together a rather unique mix of musical adventures. Celebrate the New Year with Spud Patrol's tribute to DEVO, Stay Sick! paying tribute to The Cramps, and Whatever Forever's Dean Monkey and the Dropouts. New wave, punk rock and doo-wop all in one spot? Even if only one of those genres tickles your fancy, it's probably worth it to celebrate with all three. It's a $3 cover charge (just $1 for each band if you think about it). The show starts tentatively at 10 p.m.
Boogie Wonderland at Fatso's
High-energy '70s soul music will fill Fatso's, 1016 Massachusetts St., with entertainment by soul cover band Boogie Wonderland. Along with groovy tunes, a champagne toast and balloon drop at midnight will be included in the $10 cover charge before 9 p.m; $15 after. Patron shots are on special for $5. If you'd like VIP entry and a reserved table, it's free as long as you let them know ahead of time. Limited seating.
Free parties at Jackpot Music Hall and Gaslight Gardens
The Lonesome Houndogs and Fortnight will be playing a free show at the Jackpot Saloon, 943 Massachusetts St., so drop in for a bit or rock out all night long; it's at no cost to you.
Gaslight Gardens, 317 N. Second St., has a costume party for your pleasure at the New Year's Eve Speakeasy Party. Don pinstriped zoot suits or flapper dresses, and show up with empty pockets (but bring your ID) unless you want to partake in the $5 martini special.