Thursday, December 26, 2013
Name: Constance Whiston
Age: 65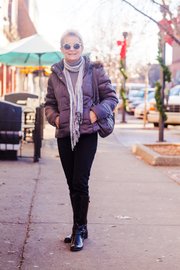 Hometown: I consider Lawrence my hometown because it's like paradise. I've lived in so many big cities that this is beyond comprehensive. It's a wonderful place to live.
Time in Lawrence: Five years
Occupation: Marketing director for Drury Place at Alvamar
Dream job: I love my job! It's the best one I've had in my life!
What were you doing when scouted? I just had coffee with a friend at Aimee's (Coffee House).
Describe your style: Eclectic, contemporary, progressive and sometimes eccentric but it's not (like) Betsey Johnson, although I like her. It's probably more New York than Midwestern. I love new clothes but I really get a kick out of secondhand stores.
Fashion trends you hate: I don't like to see people in tennis shoes all the time. I don't like baggy pants on women although some people do. Bell bottoms have come back again but I won't wear them.
Fashion influences: In high school and college, I read Vogue and Bazaar for years. I pay attention but I don't go with trends or what is fashionable. I just branch out on my own because I'm an artist.
What would you like to see more or less of in Lawrence? I like the direction that the art community is going from the South Mass Art Group, the Austin Art Guild and the Photo Alliance to the area that houses the Cider Gallery/Seed Co. I'm producing an art show at Quail Run Elementary School where every single student will have their art on display at Drury Place at Alvamar.
Whom do people say you look like? Years ago people used to think it was Cheryl Tiegs. Who do you think I look like? Martha Stewart? No!
What type of music do you unwind to?  I like unusual music that you don't really hear on the radio. I like NPR and KJHK (radio stations).
Tell us a secret:
 Lawrence is what I call the Norman Rockwell city of America. I've never lived anywhere — and I've lived all around the U.S. — that is so picturesque, romantic and so like a painting.
More like this story on Lawrence.com