Friday, December 27, 2013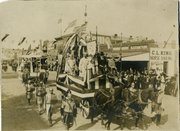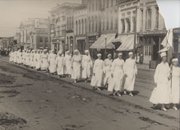 From suffrage marches of the 1800s to modern-day zombie walks, Lawrence has always loved a parade.
A new photo exhibit at the Watkins Museum of History captures a few of the city's many parades through the years. "Celebration Central: Parades on Massachusetts Street" opened this month and will remain on view through March 8 on the main floor of the museum, 1047 Massachusetts St.
"Since Lawrence's earliest days, city gatherings have strengthened our community's bonds," the exhibit introduction reads. "Central to those bonds are the wide variety of parades that mark the city's celebrations and voice its residents' concerns."
In addition to mainstream classics like the annual Christmas parade, Lawrence seems to have had many "interesting little causes and events" that also inspired parades, museum curator Brittany Keegan said.
"We wanted to show a range of parades over the years," she said.
Photos include images of full-skirted women in a late 1800s suffrage parade, modern men on high-wheel bicycles in the 1993 Wheelman Antique Bicycle Club Parade and horses lining Massachusetts Street as far as the eye can see in the Veterans parade of 1890.
It's hard to say for sure, Keegan said, but it seems that while Lawrence has more parades today, the ones of yesterday may have been better attended.
For example, even the German Heritage Parade of 1904 saw onlookers packing the streets for a glimpse of the Germans' medieval looking costumes and horse-drawn floats, as depicted in one of the exhibit's photos. Sidewalks also were full for the Haskell stadium dedication parade of 1926.
"The whole town turned out," Keegan said.