Photo Gallery
Behind the Lens: Richard Gwin goes to Nicaragua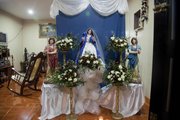 Years ago while I was windsurfing at Clinton Lake, I met three Kansas University students from Central America. They didn't know English, but thanks to the license plate on my car (BMARLEY) that broke the ice, we became friends. We cooked together, I photographed their weddings here, met their parents and eventually ventured to Nicaragua in 1994, and was wowed.
So, this December, after years of pestering, I had to go again.
Photography is my passion — I'm driven to take my gear everywhere, or at least enough gear to turn these once-in-a-lifetime memories into pictures. I usually take too much, so I was determined to take less on this vacation: An iPad to download pictures and videos, a Cannon 5D with a 24-70mm lens and a 70-200mm lens, and five 16GB memory cards. That's it.
I wasn't out to take too many pictures, but I'm an addict for composition and for the things you see that make you stop for a second look.
Nicaragua, what a place! When I arrived, Christmas lights were everywhere as the people were getting ready to celebrate the Feast of the Immaculate Conception. It's a holiday sort of like Halloween, where kids go around asking, "Who is causing so much happiness?"
My host, Leonel Aguilar, a KU graduate, has an ecolodge called Quinta Yolanda, and on its land grows coffee, papaya, bananas, gungo peas, avocado, mango, tomatoes, cucumber and even tilapia for consumption and sale. All the aforementioned produce is sold on the menu at the lodge.
On Dec. 7, we celebrated the Immaculate Conception of Mary. Though I packed light, I was still prepared with the camera equipment I brought. In Leon, tens of thousands of people were getting ready to transform the city into a giant, colorful, religious celebration.
Things were different from the last time I was in town: booths were being set up and carts of flowers were everywhere, as people bought items to decorate their houses for the celebration after Mass.
When the celebration started, church bells rang, fireworks started, and tall puppets danced in the streets. As we walked, out of the corner of my eye I saw streaking fireworks being carried by men. It was nuts, but made for nice pictures. Not a safe place to shoot, though.
Later on the trip in Estelí, a town of about 70,000 where tobacco and coffee production is big, I was reminded of my past visits to Cuba as things looked somewhat the same — more than I knew. While visiting one of the tobacco factories, one guy looked different to me. I asked Leonel about him, and we found out he was from Cuba. It made sense. Cubans send their tobacco to Nicaragua, where it's rolled and sold all over the word, even in the U.S., so the Cubans can avoid the embargo.
It was nice to be on vacation, being with friends, hearing stories of Mayan ruins; seeing volcanic areas where the ground is warm where you can camp and even go sledding down the sand; going deep-sea fishing as dolphins swim alongside. A lawyer told me that if U.S. citizens can prove they make $650 a year, they can live in Nicaragua tax free. Not bad.