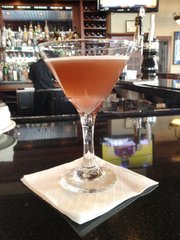 If you find February better suited for curmudgeonry than romance, this probably isn't your kind of Lawrence Libation. No problem. Go have a Scotch on the rocks and check back another month, because we're about to make a corny connection between Valentine's Day and a drink. It's called the French Kiss martini. And with a deep-blush color and flavors of raspberry, pineapple and silky vanilla, it's one romantic cocktail — perfect for the month of love.
The hard stuff: Vanilla vodka. And, if it counts as hard, raspberry liqueur.
Where it's served: The Jayhawker, inside the Eldridge at 701 Massachusetts St. Also available at Ten, the hotel restaurant.
What it costs: $9
When it's on special: Thursdays. All specialty martinis are half-price.
Other libations at this location: The Jayhawker advertises an award-winning wine list and no fewer than 35 more specialty martinis, many with crave-worthy food names such as Cinnamon Nut Crunch, Cherry Cheesecake, Gingersnap and Key Lime Pie. For you curmudgeons who read this anyway, if you're sure a French Kiss isn't in your immediate future, go for the classic Gibson — gin and dry vermouth with cocktail onions.
— Drink up. Stay classy. Don't forget to tip your bartender. And let us know if you want to suggest a libation for this feature — email sshepherd@ljworld.com or Tweet her at Twitter.com/KCSSara. Cheers.
More like this story on Lawrence.com