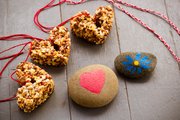 Last year we were on a beach vacation over Valentine's Day, so I got a pass on what would have been my first round of valentines for my toddler's school classmates.
This year, I'm not so lucky, in many respects, so I've been thinking about what we can make to take to school for my little man's beloved friends.
While I do like Valentine's Day, one of the things that bothers me about it is that it can be a bit wasteful. Little plastic pink and red do-dads that end up being thrown away in two days, more candy than one person can eat in a year — the heaps of trash at the end of the day make it less fun for me.
To that end, in seeking out ideas for this year's valentines, my first goal was to avoid anything that would end up in a landfill.
Secondly, while I'm certainly not opposed to a little candy now and then, we still have Halloween candy in the back of our freezer. I assume that other parents in my son's class have similar gluts, so candy was out as well.
Third, I wanted something that the kids might actually like. Because otherwise, what's the point?
With those goals in mind, here are three easy valentines. They can all be made inexpensively in bulk, and all three can be varied so that you can complete them yourself or let your child lend a hand. Have fun, and happy Valentine's Day.
Birdseed "cake" hearts
One of my son's favorite things to pretend is that he is making a cake. So, as you can imagine, he was ecstatic when I told him we were going to make some real cakes for the birds. To make these, you'll need a heart-shaped cookie cutter, some oil or cooking spray (to grease the cookie cutter) and the following ingredients:
3/4 cup flour
1/2 cup water
1 envelope unflavored gelatin (2.5 teaspoons)
3 tablespoons corn syrup
4 cups birdseed
To make the cakes, mix everything but the birdseed in a large bowl. Then add the birdseed and stir really well.
Working on a rimmed cookie sheet to contain the mess, press the birdseed mixture firmly into the cookie cutter. If you're doing this with a younger child, I recommend letting them scoop the seed mixture in, as you use your hands to pack it down. It's sticky, but it's all good fun!
Once the cookie cutter is packed full, use a chopstick to make a hole in the center of the heart. Then carefully slide the mold away from the bird seed and move onto the next cake. You'll need to re-grease the cookie cutter about every other time so that the birdseed will slide out smoothly.
Once you've made as many as you need — this recipe made about 16 — set them all aside to dry overnight. When they're dry, string a piece of bright red or pink string through the center, so that the recipients can hang the heart out for the birds.
The only word of caution I have about this project is that you can't make the hearts too far in advance, as the seed can start to mold. A few days ahead is fine though, so do it the weekend before Valentine's Day.
Friendship bracelets
Making these made me so nostalgic for my childhood. I can remember sorting through my grandmother's embroidery thread for wacky colors, and carefully braiding and knotting enough bracelets to cover a good chunk of my forearm.
If you didn't make friendship bracelets as a child, a basic braided one is an easy place to start. Pick three colors of embroidery thread and cut about a 16-inch length of each one. Knot the three strands together at the top, leaving a little tail. Tape the tail to a hard surface, like a table, and start to braid. Be careful not to let the loose ends get tangled as you work.
Braid down to about 1 inch longer than you want the bracelet to be. That way you can tie the end knot in the actual braided section, and you won't have an unbraided hole at the end of your bracelet. Trim up the ends, but I recommend letting the wearer tie them together for the best fit.
Obviously, my toddler is not coordinated enough to make braids, but if you wanted to get your little kids involved with this project, why not let them pick what colors to use?
Painted rocks
I think that just about every mother with small children will agree with this statement: Kids love rocks and sticks. It's magnetic. If there is a rock or stick within 5 feet, my son will make it into a toy. While taking sticks to school as valentines seems like a good way to make my son's wonderful teacher hate me, rocks are less of a safety hazard.
But, of course, to make them Valentine's Day appropriate, I had to dress them up. As it happened, my son crashed out for a nap and I ended up painting my rocks myself. I used paint pens to make simple shapes like hearts and flowers.
For a child that's awake, however, this and a bottle of fingerpaint would be a great project for a cold Saturday afternoon. In fact, we may have to do it again sometime when my little guy is awake to make some pretty rocks for our spring garden.
The great thing about it, as with all of these projects, is that when the receiver is done with it, it can be tossed right back outside with no fuss and no trash.
More like this story on Lawrence.com