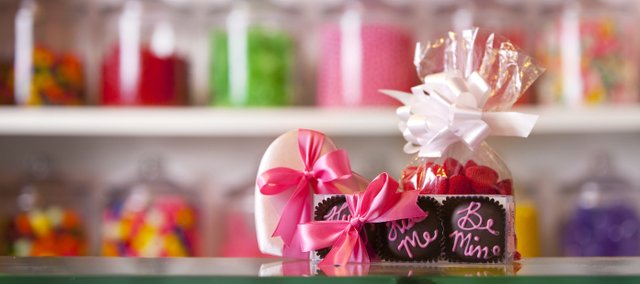 Valentine's Day is fast approaching, and it's time to start thinking about gifts. Stumped again?
Whether you're shopping for a family member, a lover, a crush or a friend, young or old, man or woman, it's hard to go wrong with food. You can give it to another person to enjoy, or buy it to enjoy it together. And it always fits.
"Candy is universally appreciated," said Lora Wiley, owner of Au Marché, 931 Massachusetts St. "It doesn't matter how old the recipient is, they're going to love candy."
Savory can be just right for this holiday, too, but either way, the key is to find something that's a little bit special, Wiley said (case in point — the black truffle salami she sells at her store, featured below).
For our Valentine's Day gift guide, we're highlighting some of our favorite food finds from Massachusetts Street shops.
Bon appétit — to you and your Valentine.
•••
If anyone knows how to do a romantic meal or late-night snack for two, it's the Europeans. Take home a combination of Black Truffle Salami made by Angel's Salumi and Truffles ($18), Tradition d'Alps Fondue Cheese ($11.69 per box) and Maille Cornichons ($7.25 per jar), all sold at Au Marché. Truffles have long been known as an aphrodisiac, and black truffles are said to have the most concentrated powers of all. The Tradition d'Alps fondue cheese can be melted on the stove or in the microwave if you don't have a fondue pot, and cornichons — tiny French gherkins — are a traditional accompaniment.
If you're looking for a spicier experience, try traditional Spanish-style Palacios Chorizo Picante ($8.60) with a wedge of Cervasi Aged Gouda cheese ($2.25). With either combination, make a pit stop at Wheatfields Bakery, just off Massachusetts Street at 904 Vermont St., to pick up a French baguette.
•••
If words like "sharp" and "sour" are all that come to mind when you think of vinegar, it's time you paid a visit to Extra Virgin Olive Oil Tasting Shop, 937 Massachusetts St. Among their most sumptuous, Valentine-perfect offerings is the Aged Black Cherry Balsamic Vinegar Condimento ($11.95 for a 200 ml bottle). The deep, dark, fruity and decadent concoction could top anything from ice cream or flourless chocolate cake to a salad of baby greens with blue cheese.
Other especially indulgent infused balsamic vinegar flavors include Dark Chocolate and Tahitian Vanilla — both of which would meet their match in Extra Virgin's Blood Orange Olive Oil ($12.95 for 200 ml).
•••
So your loved one's first love (after you, of course) is the Kansas University Jayhawks? Head for Kansas Sampler, 921 Massachusetts St. Their KU Blue Hot Chocolate ($18 for a tin) is warm, rich and turns blue when you add hot water.
Other tasty, Kansas-proud offerings include Rock Chalk Jayhawk crimson and blue gumballs ($9.95 for a box), Kansas Cow Chips made of milk chocolate with almonds ($3.95 each), barbecue sauce ($19.95 for a trio of Jack Stack Barbecue sauces) or, for home cooks, "The Kansas Cookbook: Recipes from the Heartland," published by University Press of Kansas ($17.95). What better to cap a Valentine's Day meal than homemade Swedish cheesecake with lingonberry sauce?
•••
Mass. Street Sweet Shoppe, 727 Massachusetts St., does sell popcorn, but they specialize in all things sweet. Fancy truffles ($2.95 apiece) are one of their most show-stopping Valentine's treats. They come in assorted flavors and designs, and Sweet offers boxes for single truffles or combinations of four, six or — if you're in the doghouse, or just looking to make a bold statement — a dozen.
Other sure-to-please-a-sweet-tooth gifts include bulk candy ($9.99 per pound — try a mixed bag of red or pink rock candy or jelly beans) and chocolate-covered Oreos ($7 per box of three), which are iced with "Hug me," "Kiss me" and "Be mine" in red or pink and wrapped with a matching silk ribbon. The Sweet Shoppe also is taking pre-orders for chocolate-covered strawberries.
•••
For DIY types planning to bake your own cupcakes for your valentine, Sweet! Baking and Candy Making Supply, 717 Massachusetts St., has everything you need to make them pretty. These festive sprinkles ($2.50 per bottle) come in red lips, colored hearts, shimmery silver or pink candy chunks and more.
Sweet! also sells colorful cupcake papers in regular or mini-size ($2 per pack), heart-shaped plastic ring cupcake toppers ($1.80 per bag) and single-cupcake gift boxes with a red-and-white chevron design ($2.99 per pack). Bonus: If you need a tried-and-true recipe for buttercream frosting, Sweet! shares theirs online at sweetbakingsupply.com.
•••
For your kids — or the kid in you — what could be more fun than bright pink milk for Valentine's Day? In February, find Iwig Family Dairy's strawberry milk ($4.19 for a half-gallon, plus $2.25 refundable glass bottle deposit) at the Iwig Dairy Local Foods Market, 1901 Massachusetts St.
If flavored (or pink) milk isn't your thing, Iwig's fresh, local, hormone- and antibiotic-free milk also comes in plain old white, a no-fail choice to accompany all those Valentine's Day sweets.
— Features reporter Sara Shepherd can be reached at 832-7187. Follow her at Twitter.com/KCSSara.
More like this story on Lawrence.com