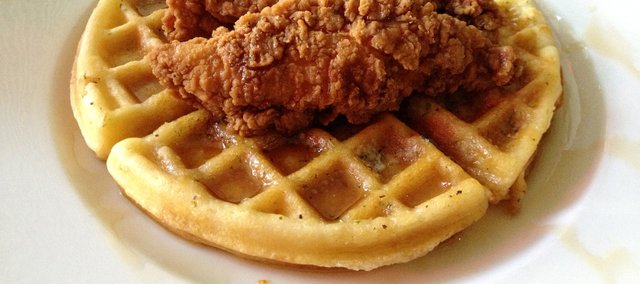 Sunday, February 10, 2013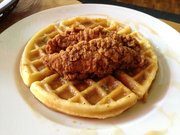 This take on chicken and waffles isn't the bone-in norm of soul food restaurants, but Burger Stand's version of the sweet/savory combo is, without question, easier to eat. Battered and fried chicken fingers top a crispy round waffle, the whole shebang drizzled with maple syrup. Sound good? Be sure to hit the Stand on "Chicken Tuesday" — the one day a week the Chicken and Waffles are on the menu.
Where to get it: The Burger Stand at the Casbah, 803 Massachusetts St. Tuesdays only.
What you'll pay: $8.99
Try it with: Roasted marshmallow sauce for the waffle and honey mustard for the chicken. That's only if the syrup's not sweet enough for you already.
Also on the menu: Kobe beef and other burgers with names like Smoke (with applewood smoked bacon, gouda cheese and chipotle-cocoa ketchup) and Fire (fresh avocado and habanero-cactus jam), Chicago-style hot dogs, fried pickles, poutine and duck fat fries (yep, fried in duck fat). Not a meat-eater? You can have a lentil, black bean, shiitake mushroom or garbanzo bean burger.
— Off The Beaten Plate highlights some of the more exotic, oddly named or inventively concocted (for better or worse) dishes from local menus. Know of an offbeat menu item we should check out? Email food and features reporter Sara Shepherd at sshepherd@ljworld.com. Tweet her at Twitter.com/KCSSara.