Sunday, February 10, 2013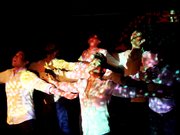 Free bully awareness events
• Global Pride will be from 7 p.m. to 9 p.m. Wednesday at the Sabatini MultiCultural Resource Center, 1299 Oread Ave. The Kansas University Area Studies Center will lead a panel discussion about LGBT issues from around the world.
• GMCLA and local experts will have a presentation during Nerd Night from 8 p.m. to 10 p.m. Wednesday at Pachamamas' Alton Ballroom, 800 New Hampshire St.
• The Center for East Asian Studies will show the film "Queer China" from 5 p.m. to 7 p.m. Thursday at the Spencer Museum of Art, 1301 Mississippi St.
The Lied Center will present "It Gets Better" at 7:30 p.m. Saturday to bring its message of hope and unity to young adults being bullied in schools because they are different, and to bring awareness to the issue of bullying itself.
"We want a safer and more supportive community for youth," says Karen Christilles, the associate director at the Lied Center.
The It Gets Better project was started in 2010 by syndicated columnist and author Dan Savage to bring awareness about the many teens who have committed suicide after they were bullied for being gay.
It Gets Better aims to remind teenagers in the LGBT community that they are not alone and things will get better for them after high school. Advocates have joined the movement by posting moving videos about their experiences with bullying and successful lives after high school.
Now, the movement is hitting the road and coming to Lawrence, along with the Gay Men's Chorus of Los Angeles.
The theatrical tour was created by Speak Theater Arts from Los Angeles and will feature entertainment by the Gay Men's Chorus and local choirs, and It Gets Better videos that were submitted by local residents. The theme of the songs and videos will be bullying and the broader issues of tolerance and diversity.
The chorus plans to come to Lawrence with a message of love, unity and hope. Among the group will be Bill Bowersock, a former Kansas University student and current concert producer and singer for the chorus. Bowersock joined the chorus in 1993 because he wanted to support the gay community during the AIDS crisis. Now that the issue has diminished, Bowersock and the chorus are focusing on the future generations of gay people.
"What we are trying to do is find a way for acceptance," Bowersock said. "It feels like society is moving into that direction. We are just out there singing and trying to put our voice to that end, to full acceptance, so that kids can grow up and just be kids."
Lawrence leaders will also work together to create a bully-free environment for the young people.
The leaders, which includes city commissioners, religious leaders, school administrators, active parents and more, will participate in the It Gets Better World Cafe on Wednesday. Participants will discuss agendas that ensure safety and eliminate bullying.
Local residents also have the opportunity to join the It Gets Better movement by singing with the community choir that will perform at the Lied Center. For more information on joining, contact Christilles at klchrist@ku.edu.
According to a press release, parental discretion is advised for young children during the It Gets Better performance because it will include strong language and cover adult issues.
Tickets for the show are $17 for adults and $7 for students and children. They are available at the Lied Center ticket office and at lied.ku.edu.
More like this story on Lawrence.com