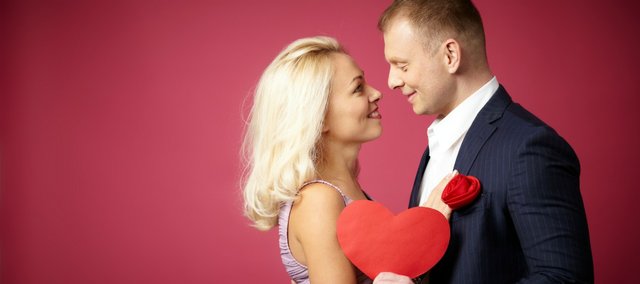 Monday, February 11, 2013
Win a date night
Marriage for Keeps, a program of Catholic Charities of Kansas, offers free relationship education workshops statewide. For more information on the workshops, which are open to people of any faith, visit KansasLoveLetters.com.
Love Letters from Kansas, an affiliated campaign, also is sponsoring a date-night giveaway contest. Enter online by Thursday (Valentine's Day) at Facebook.com/ksloveletters.
In a way, Julie and Seth Johnson of Baldwin City are forced to do something simple that's critical for relationships but that many couples overlook — talk.
With Seth's job as a construction superintendent taking him out of town except on weekends, the high school sweethearts, who married a little over a year ago, make sure they talk every day, sometimes more than once. If they're busy it might be just five minutes, Julie said, and other days it might be an hour.
"It's kind of hard to make time to actually talk to each other on the phone," she said. "But … it's pretty much our only way to communicate."
With Valentine's Day — the final day of National Marriage Week — on Thursday, revving up romance seems to be on the brain, and experts say strengthening your emotional connection is the best place to start.
Establishing "real, genuine contact" is critical to committed relationships, said Marciana Vequist, a psychologist who works with couples at Lawrence's Bert Nash Community Mental Health Center.
If you find yourself not sharing much about what's really going on in your life, or if you and your partner's conversations seem overrun by superficiality, business or household matters, she said, look at your emotional connection and "take its temperature."
"We can expect our style of romance to change over the years, but I don't think we should expect it to go away," Vequist said. "Warmth in a relationship has to be there before you can get hot."
Maybe yours is a little on the cool side. How do you warm it up?
It's as simple as talking, Vequist said. She offered these pointers to maximize your time together:
Make time. Even if it's just 15 minutes a day, set aside the cellphones, turn off the TV, sit down, look at one another and really find out what's going on with each other.
Be sensitive. For some people, self-disclosure is anxiety provoking. If that's the case for your partner, start out easy and treat it like a skill — practice, and you'll get better.
Be yourself. In conversations, don't try to present the person you think your partner wants you to be — if anyone should get to see the true you, it's them.
"Who we really are deep down inside of our heart is really much more attractive than anybody we could invent or make up," Vequist said. "The more you can show that to someone, the more attractive you'll be."
It's normal for some of the "luster" to wear off as relationships weather time or challenges, said Christina Sell, regional coordinator for Catholic Charities of Northeast Kansas' Marriage for Keeps program, which offers free relationship workshops. That's when, if you're lacking communication skills to maintain an emotional connection, it starts to show.
Giving your partner your full attention is almost like going back to the time when you felt "enraptured" by whatever they said, Sell said. Taking time to do something that's meaningful to them — even if it's not necessarily meaningful to you — has the same effect.
With someone giving you that kind of devotion, Sell said, "how can you help but feel special?"