Monday, February 11, 2013
This month, try figs — they might be a little mysterious, but getting to know them is definitely worth it.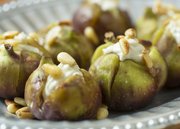 Delicious
Figs are so beautiful. I think they're a perfect pick for February because they're sort of unique and somehow sexy.
Somehow, they seem romantic to me. They're a little bit expensive and a little bit rare and absolutely luscious.
Honestly, I could say, "Cut them in half and put them on a pretty plate," and that would be enough to do the fig justice. But of course I am wont to gild the lily, so I had to add some other favorite sexy ingredients to the fig to put the whole thing over the top.
Make this for Valentine's Day for your love interest if you'd like to get married. Or if you'd just like to see him or her again, possibly in less clothing.
The great thing about this little recipe is that it looks really fancy, but it's really fast to do. It doesn't require any special equipment or expertise (heck, it doesn't even require heat), but it looks like a real gourmet treat.
Bleu Cheese Stuffed Figs
5 or 6 fresh figs (preferably the brown turkey variety)
1/3 cup bleu cheese, softened
3 tablespoons cream cheese
honey
3 tablespoons pine nuts
Stand the figs up. You don't want to cut all the way through, but cut in half down to the bottom, leaving about a quarter of an inch at the bottom. Then cut in half the other direction, making an "x" in with the slices in the top of the figs.
Mash the bleu cheese and cream cheese together. If you have a piping bag with a star tip, go ahead and load the cheese in there. If not, load it into a plastic baggie and cut a small hole in one corner.
Pipe the cheese into the center of the fig.
Next, heat a skillet and toast the pine nuts gently. Drizzle the figs with a little bit of honey and then sprinkle with pine nuts.
You can have this lovely little appetizer ready in mere minutes, leaving plenty of time for romance. This will impress your date and you won't have to break a sweat or blow up your kitchen to do it. Enjoy!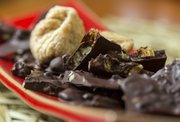 Nutritious
Megan and I choose figs this month because we'd heard, they are — ahem — some sort of, uh, love potion. You know. Like you eat them and the urge to love just takes over the second they hit your system.
I'm not really sure if that's true, but I can say that I absolutely love eating them. But I probably was nearly 30 when I had my first one outside of a Fig Newton. I'm sure this is totally normal. But once I'd tried both fresh and dried figs without the whole "Newton" part, I was hooked.
They're sweet, sort of spicy and everything a girl could want in a dessert, Valentine's Day looming or not.
You're also getting a bit of good nutrition along with great flavor and, uh, the other possible benefits. Per fig, you get about 1 percent to 2 percent of your daily calcium, iron, potassium, magnesium, vitamin K, copper, manganese and other trace nutrients.
Because it's February and I'm a sucker for chocolate, I've chopped up my figs and created a bark that is low in added sugar.
To create the bark, I mixed an unsweetened baking bar with a low-sugar dark chocolate bar (5 grams of sugar per serving) and then added in figs and raisins to add flavor and sweetness without extra refined sugars.
Toss in some nuts for crunch, and you've got a fig-licious dessert that's decadent but not a sugar bomb.
Fig-Chocolate Bark
½ cup chopped dried figs, stems removed
¼ cup raisins
¼ cup chopped nuts of choice (I used pecans)
1 4-ounce 100 percent cacao unsweetened baking bar (I used Ghirardelli)
1 3.5-ounce 70 percent dark chocolate bar
Chop chocolate bars into tiny pieces (smaller than chocolate chips, if you can do it). Next, melt the chocolate in a double boiler or in a glass bowl over a pot of hot water. Stir constantly until smooth. Once smooth, remove from the heat and add figs, raisins and nuts. Stir to combine and coat.
On a cookie sheet lined with wax paper, spread the bark "dough" with a spatula. Top with additional chopped fruit or nuts, if preferred.
Set in the freezer until hard. Once frozen, break it into pieces and serve. Serves 8.
More like this story on Lawrence.com