Monday, February 11, 2013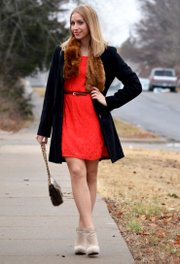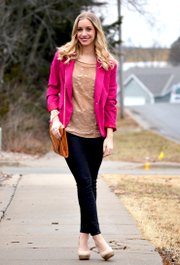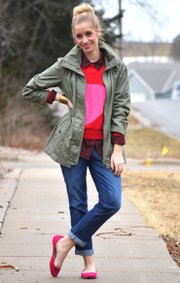 February has arrived, and that means one thing: Valentine's Day.
Typically one's relationship status determines on which side of the Valentine's Day love-hate spectrum you stand. Personally, my feelings are indifferent toward this Hallmark holiday full of roses and heart-shaped boxes of chocolate.
Truth be told, my excitement stems from my favorite pastime, dressing for the occasion!
Bright red, vibrant pink, chocolate brown and the always-appropriate black are my Valentine's Day colors of choice. Lace, sparkly jewels and heart graphics are also some of my obsessions throughout the month of February.
So whether you're single this year or have been struck by Cupid's arrow, here are some love-worthy ensembles for the special occasion.
The Wine and Dine
A dress is my go-to piece for a fancy dinner of any kind. Pay attention to the fabric and wear a lace or chiffon number, as cotton typically looks more casual. Depending on the weather, you might want to throw on a pair of tights. Ankle boots in a neutral tone add a little edginess, but classic heels are always a safe style option.
The Single Girls' Night Out
Girls' nights are meant to be carefree and fun, so you'll want that to show through in your outfit. Throw on some dark skinny jeans, statement heels with a little sparkle, a feminine top and festive blazer in a bright color.
The Movie Date
For this particular outing, you'll want to find pieces that are casual and super comfortable. A sweater with heart graphics layered over a button-up shirt will give you a unique twist to a tailored look. A printed button-up shirt will pump up an otherwise simple sweater.
Try a loose-fitting pair of denim like relaxed boyfriend jeans so you can properly lounge in the movie theater chair.
Flats in a colorful hue are easy to walk in and will complement your Valentine's get-up perfectly.
— Emily Kennedy is one-half of the stylish duo behind The Fashion Column blog she shares with her twin sister, Elizabeth. Emily can be reached at fashioncolumnblog@gmail.com.
More like this story on Lawrence.com