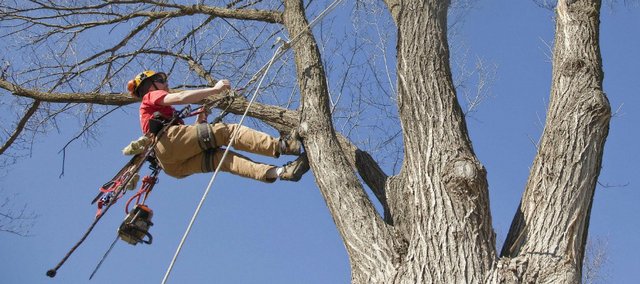 Monday, February 11, 2013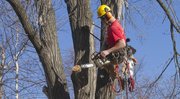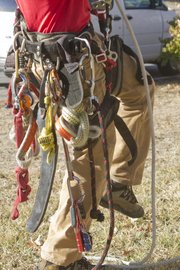 Dan Parker-Timms ascends 40 feet into the canopy. Above hang the limbs he must cut. Below looms the fall.
Suspended from a rope in between, his life dangles from what he calls good habits, "dotting the 'I's and crossing the 'T's."
He double checks knots. He visualizes how each cut branch will fall. He has a back-up rope and picks his tie-ons with care.
"I trust my life every day to a 2-inch thick limb," he says. "I should knock on wood as I say that. I've been lucky so far."
Parker-Timms has operated Shamrock Tree Services Inc., 2136 Learnard Ave., for 18 years after starting the business with only a pickup truck a borrowed chain saw. He now has five employees, but his job as an arborist, or tree caretaker, remains the same: plant trees, cut down trees and trim trees.
The trimming takes up most of his time but also makes him feel most at home.
"Being in the top of the tree, feeling the wind blow and feeling the sway, all the way from the top completely down to the ground, you feel connected to the tree and the earth and the sky and really the natural world."
He moves through the tree, removing branches with surgical care.
It is a job of utter concentration, sharpened with finality of the situation; the idea that one broken branch, one improper knot, one wrong cut can mean death. Parker-Timms says trimming a tall tree pares away the rest of the world.
"It's sort of like yoga with a saw," he explains. "It can be quiet and contemplative, and it's sort of an athletic and artistic endeavour."
Parker-Timms explains shaping and trimming a tree as almost an act of creation, but also an act that carries destructive possibilities.
Parker-Timms cites the huge amount of force generated by a falling limb. It can damage a house, or worse.
"I have worked for a couple of people over the years who have lost friends or family members who were struck by trees," he says. "It's always a sobering thing."
The danger weighs heavily on him.
"The burden for being responsible for keeping people safe and employed, I think that's the most challenging but also most rewarding element," he says. "How do you take something that is intrinsically risky and make it as safe and predictable as possible?"
To minimize the hazards, one trimmer often stays on the ground and "spots" while another person trims. Parker-Timms must also rely on what he calls "technical rigging" — using simple machines to safely lower heavy limbs to the ground away from houses and people.
"I always think when I'm frustrated and having problems (that) people built the pyramids using really simple technology," he says.
Parker-Timms says his business works on trees for a number of reasons, from safety to aesthetics, but tree health is always his main concern.
"People think a guy with a chain saw gets his kick from cutting down trees," he says. "I and most tree trimmers I find are just the opposite. I do it because I love trees and their presence and always being around them."
If he can avoid removing a tree, he will. It kills job security, he jokes.
But when he has to cut off limbs or remove a tree he uses a "whole buffalo philosophy," making sure nothing goes to waste.
Cut trees often go to the Kansas University Medicinal Garden to use as mulch or to the KU visual art department to be used in ceramics kilns.
Parker-Timms' roots run deep with trees and nature.
His father worked as an arborist in Northern California: "Some kids play baseball with their dad, we went out and cut redwoods."
But he never considered tree care as a profession. He earned an undergraduate degree in creative writing at University of California, Davis, and hoped to write poetry. Afterward, he traveled across the country, often falling back on forestry — he fought forest fires in the summer to pay the bills. He began cutting trees to fund a master's degree in creative writing from the University of Colorado, Boulder.
Eventually he realized there was a reason he kept coming back to the profession: "I liked being outside more than I liked being in the classroom."
He then followed his girlfriend to Kansas and started his business.
"As a kid growing up in California, we wouldn't have believed there were trees in Kansas," he says. "I certainly never thought I'd wind up and be happy here."
Now he has his own sons, ages 8 and 6. Parker-Timms would be flattered if his two sons chose to be the third generation in his family to climb trees. However, he doesn't want them to take up the risky and physically demanding profession unless it's their passion, like his own.
"You do it because you love the lifestyle, not because you want to get rich," he says.