Tuesday, February 12, 2013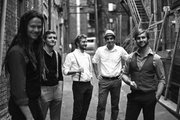 The term "delta blues" conjures up a lot of images: Mississippi, share cropping, hard drinking and hard times among them. But Kansas? Not many bluesmen have lamented over the Sunflower State, but a pair of homegrown boys are starting to make noise with a band that summons ghosts of the South and makes them dance to a steady rock rhythm.
Delta Saints released their first full length album last month and are in the midst of a U.S. tour that will stop in Lawrence on Saturday at the Bottleneck before the band returns to Europe, where they've developed quite a following. The band's rhythm section will proudly bring along its Kansas roots. Bassist David Supica, an Olathe native, and drummer Ben Azzi, originally of Overland Park; both wear their state pride proudly on their sleeves.
"Hell yeah it does," Supica says when asked if Kansas has an influence on the music he plays. "We both have a lot of Kansas pride and have a lot of roots and still harken back to our Kansas upbringing. I would say it's been a big influence on us. And Lawrence has always had a freaky-good little music scene. That's where I first started seeing shows. When I turned 16, my dad would drive me there to see shows."
A few years after seeing those formative shows, Supica and Azzi enrolled as students at KU and played together in various local acts before they moved to Nashville, Tenn., to study at Belmont University and its renowned school of music.
They met front man Ben Ringel and fellow bandmates and put together their harmonica-driven blues-rock sound. Since then they're steadily built fans, especially across the pond. They've toured there in support of their two self-released EPs, and will be back to support their first full-length album, "Death Letter Jubille," later this spring.
"Man, touring there, I mean, we love being home and being in America, but touring there is a whole different ballgame," Supica says. "It's just like a whole different way that they approach music and going to concerts. It's incredible. As far as the crowds go, people are just so amped, especially on the kind of American blues music that we're doing. They're so passionate about American music, it's really incredible."
That's not to say they don't still have affection for playing blues-rock in the middle of the American map. Lawrence, Supica and Azzi agree, is the one place on their tour schedule in which they insist on taking the following day off to recover from the party that inevitably breaks out after a set of hard-charging blues-rock.
"Lawrence is very supportive, and everybody helps each other out," Azzi says. "In Nashville you have the big, swingin' competitive country industry and you are such a small fry all the time and always fighting for scraps, and it's so hard to meet people after shows. But in Lawrence it really is special. It really influenced the way I look at playing in a band."
The Delta Saints will perform along with the Blackfoot Gypsies at 8 p.m. Saturday at the Bottleneck, 737 New Hampshire St. It's an 18-and-over show, and tickets cost $8-$10. To purchase tickets and for more information, visit thebottlenecklive.com.