Sunday, February 17, 2013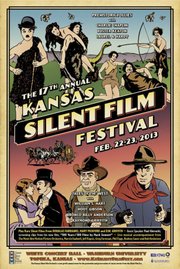 If you go
What: 17th Annual Kansas Silent Film Festival
When: Friday and Saturday
Where: White Concert Hall at Washburn University in Topeka
Cost: Free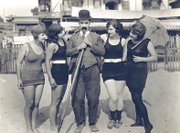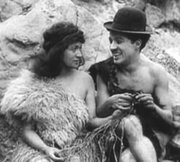 Just over 100 years ago, Mack Sennett founded Keystone Studios, the first Hollywood film company that specialized in making comedies. Unfortunately, of the approximately 1,000 films produced by the "King of Comedy," only a few hundred have survived, and they are in desperate need of restoration.
Film buffs will get a chance to see at least four newly restored Sennett shorts at the 17th Annual Kansas Silent Film Festival on Friday and Saturday at Washburn University in Topeka.
Paul E. Gierucki and Brittany Valente from CineMuseum, LLC will be on hand to introduce the shorts, along with "several rare, unannounced surprises" during Saturday night's Cinema Dinner, which unlike the rest of the festival is by reservation only.
Gierucki and Valente are spearheading a massive digital restoration of Sennett's catalog for an upcoming 100-film Mack Sennett DVD box set, and they will be on hand at the film festival to talk about the challenges of restoration and the movies themselves.
"We are gathering the best surviving 35mm elements and, in some instances, the lone-known surviving print," Gierucki says. "Titles, intertitles and missing footage are being replaced; images cleaned and stabilized; original tints and tones are being restored; and newly created scores by some of the best musicians in the industry will ensure that these wonderful films are once again seen as originally intended."
Friday and Saturday will be special not only for the public unveiling of four of these films but also because the shorts will be presented as they were upon their premieres — with live musical accompaniment.
Friday night kicks off with "Galloping Bungalows," a madcap 1924 short that Gierucki describes as a "nonstop, slam bang, tour de force that sports one of the longest, most elaborate and breathtaking chase sequences we have ever seen." Organist Greg Foreman will provide live music.
Immediately following will be silent film legends Roscoe "Fatty" Arbuckle and Mabel Normand in "Fatty and Mabel Adrift," a beautiful film with incredible cinematography and a kind of subtlety that comedy shorts are not often known for. The live accompaniment will be from Kansas Silent Film Festival mainstays The Mont Alto Motion Picture Orchestra.
Another theme of the festival revolves around a famous couple that film historian Denise Morrison describes as the "Brad and Angelina of the silent era." Mary Pickford and Douglas Fairbanks were screen legends, and Friday night's "Sparrows" from 1926 sees Pickford in her 30s playing a teenage girl — the last time she was able to fit into fans' visions of her — in a movie that Morrison says "combines elements that were so successful in a Pickford film: comedy, adventure, and sentiment."
Morrison will introduce that film and also Fairbanks' extraordinary adventure "The Gaucho" on Saturday night. This 1927 silent gem is a darker turn for Fairbanks, who generally played more straightforward heroes and helped established the swashbuckling genre of movies. This time he is the charismatic leader of a band of outlaws, with co-star Lupe Vélez.
The festival will give fans of Iola native Buster Keaton a fix Saturday morning when it shows "Three Ages." This 63-minute spoof film is also backed by the Mont Alto Motion Picture Orchestra and is set during the Stone Age, the Roman Age, and 1923 — the year the film was released. It's part of a trio of movies with a prehistoric theme that includes shorts featuring Charlie Chaplin and Laurel and Hardy.
"This was Keaton's first feature film. So nervous was he and his producer and crew that making the different time periods served two purposes: it parodied D.W. Griffith's 'Intolerance,' and if the film flopped as a feature he could edit it into three separate short films," Morrison says.
Rounding out the different themes of the festival is a Saturday afternoon packed with western shorts and features, which were hugely popular in Hollywood during the silent era.
The Kansas Film Festival is a nonprofit organization that's funded by donations and a passion for silent film history.