Sunday, February 17, 2013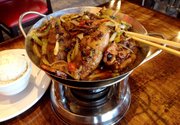 There are two menus at Jade Garden: the regular menu — home to the standard crab rangoon, cashew chicken and Hunan beef — and, upon request, the "authentic" Chinese menu — home to Off the Beaten Plate-worthy offal dishes galore.
No. 118, the Spicy Hot Pot with Pig's Feet and Shrimp, is a fiery, flavorful and textured melange. It's sizzling hot and served in a tabletop chafing dish to keep it that way (which is nice, because the last thing you want when eating pig's feet is for them to get cold). And it's seriously spicy — the dish is thick with Thai chile peppers in pieces large enough to stop you in your tracks but too small to pick out, even if you tried. Fresh ginger, miso and vegetables richen the flavor.
So do the pig's feet. Unless you are fiendishly good with chopsticks, you'll probably end up eating these chicken-wing style — picking up each toe or foot section, biting off the fatty skin, breaking apart the bones and nibbling the tender bits of meat and connective tissue in between.
Where to get it: Jade Garden, 1410 Kasold Drive
What you'll pay: $14.95
Try it with: Extra napkins, and something cold to drink.
Also on the "authentic" menu: Spicy Hot Pots with chicken feet or pork intestines, mixed dishes such as Beef Stomach with Pickled Veggies or the Pork Blood and Innards Combo, Duck Noodle Soup, Dried Pepper Frog Legs, Crispy Fish in Ma La Sauce (a server recommendation), Pig's Feet and Peanut Soup, Thai Spicy Mint Noodles and lots of tofu and veggie dishes.
— Off The Beaten Plate highlights some of the more exotic, oddly named or inventively concocted (for better or worse) dishes from local menus. Know of an offbeat menu item we should check out? Email food and features reporter Sara Shepherd at sshepherd@ljworld.com. Tweet her at Twitter.com/KCSSara.
More like this story on Lawrence.com