Sunday, February 17, 2013
If you like art to tell you about where we've been as a society or where we are going, you won't want to miss this month's Final Friday.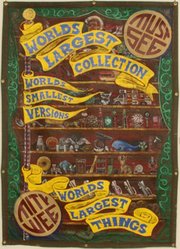 When artist Erika Nelson was a little girl, she remembers sitting in the back of her parents' AMC Gremlin and looking out the window on the many trips from her home in California, Mo., to her grandparents' house in Tipton.
"I knew when I saw the big 8-Ball water tower that we were close to Grandma's," she says, "and that is how I navigated. ... When you're little, everything is big and amazing."
Nelson held on to that sense of wonder as she grew older. She attended Kansas University for her MFA and took weekend road trips "to keep sane" and continued to marvel at the roadside curiosities sprinkled throughout the state.
"Kansas has some wonderful iconic attractions," she says, no doubt referring to icons such as Big Brutus, the world's largest electric shovel (West Mineral), the world's largest easel (Goodland), and the world's largest cow hairball (Garden City).
But something was missing for Nelson as she visited these sites. She wanted to remember the fascinations, but there weren't always souvenirs. So Nelson decided to create her own.
Otto the Big Otter in Fergus Falls, Minn., came first. Others include the world's largest bottle of ketchup, (Collinsville, Ill.), the world's largest washboard (Logan, Ohio), and the world's largest baseball bat in, you guessed it, Lexington, Ky.
Eventually, Nelson's "absurd little thing" grew into a real thing and a real traveling museum: The World's Largest Collection of the World's Smallest Versions of the World's Largest Things.
"It's the big, little, big show," she says.
And Nelson's traveling marvel is coming to the Percolator (913 Rhode Island St.) this month for Final Fridays. In addition to various pieces from her collection, Nelson will bring sketches from her travels. Last year she spent eight months on the road photographing, researching and recreating the roadside attractions from all over the country.
Nelson will spend an extra day in Lawrence and will again appear at the Percolator at 7 p.m. Saturday for a video and program, "Hucksters, Barkers, and Sideshows," about the history and craft of traveling showmen.
Andy Hadle at Wonder Fair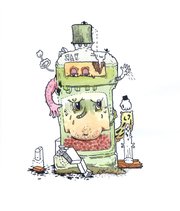 If your passions and journeys have less to do with Route 66 and more about the information superhighway, you won't want to miss Wonder Fair's Final Friday show: Buckle Up for Cheese and Rice Sonic Rush (803 1/2 Mass.) a new show by artist Andy Hadle who admits to living "a lot of life in virtual Internet space."
The show includes sculptures, drawings and videos that combine the "flat style of comic book with fine art" and "investigates the absurd, yet tenuous codependency of commodities and human survival."
"'Social commentary' sounds a little hard-edged," Hadle says. "It's a lot lighter than that."
Also included is a DVD for purchase designed to mimic the way we maneuver through the Internet.
"It's like the way you click on one link and watch for a few minutes, and the next thing you know you're watching a television commercial from the 1980s," he says. The DVD featuring original images and videos as well as found footage is designed to have different paths so it is a different experience each time you watch it.
"It's a microverse which embodies the barrage of video and imagery that are part of our daily lives," he says.
Michael Strickland photography

If Hadle's show leaves you feeling overwhelmed with life in the 21st century then step over to Pachamama's (800 New Hampshire St.) for Michael Strickland's photographs guaranteed to bring a little tranquility.
"I try to capture moments in history," says Strickland, whose works include images of the sky, nature and a little of the built environment.
"I like to capture the emotion that I felt when I looked at the images, the solitude and the beauty," he says. "And sometimes it can take weeks or months to get the right sunrise."
Many of Strickland's images are from Kansas but some are from the Grand Canyon where the KU engineering student will return this summer with a group of photographers.