Originally published February 17, 2013 at midnight, updated February 22, 2013 at 11:51 a.m.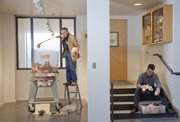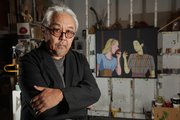 If you go
The Lawrence Arts Center's new Antecedent Gallery will debut with Wayne Propst's exhibit, "Art Supplies: Raw Materials of Art."
An opening reception will run from 5-9 p.m. Friday, in conjunction with Final Fridays, at the Arts Center, 940 New Hampshire St. The reception will feature performance art by Propst and screenings of previously unseen footage he shot of the late William S. Burroughs at home in Lawrence.
Just because people make things — very creative things — doesn't mean those things are art.
Or does it?
A tiny alcove inside the Lawrence Arts Center is being converted into a new gallery to showcase creations — yes, they're probably going to be weird — that incite the question. The Antecedent Gallery debuts Friday with a reception for its inaugural show, "Art Supplies: Raw Materials of Art," by Lawrence's resident master of weird creations, Wayne Propst.
Propst and fellow Lawrence artist Roger Shimomura are curating the gallery, a community partnership overseen by Arts Center Exhibitions Director Ben Ahlvers.
"If you want to come see where craziness is happening, this space is where you're going to find it," Ahlvers says.
Shimomura, a painter and retired Kansas University art professor, pitched the idea to the Arts Center last year.
His goal, he wrote in his proposal, isn't to feature the "best" artwork in a traditional sense but rather work with a simple fundamental intention behind it — "Art that expresses basic needs; art that is therapeutic, healing, obsessive, highly personal, troublesome, secretive; art that is inspired by a personal need that speaks from the soul can find a place in the current art environment."
The "so-called lower echelon" of fine arts is a gray area, Shimomura says. "There is an abundance of activity going on that might be questionable to a lot of people about whether or not you can call it art."
The Antecedent Gallery — a small but airy nook on the second floor — is squeezed between the metalsmithing and ceramics studios. It's only about 10-by-13-feet, but a window overlooks the Arts Center's large first-floor gallery.
A large, metal sculpture once filled the spot, Ahlvers says. More recently, it's been used for storage, a few short-run exhibits and a mini studio space where passersby could see artists at work.
Ahlvers says converting the "odd space" to gallery space fits his goal for exhibitions at the Arts Center.
"We're doing things in all parts of the building, not just contained to larger spaces," he says. "We're dedicated to doing more of that — getting art more out in the open."
The goal isn't putting strange creations on a "pedestal" in an attempt to give them credential as art, Ahlvers says. Meaning will be in the eye of the beholder.
"It really opens the door to conversations about what's art, who makes it, and why they make it," he says. "We're not answering that. We're sort of presenting the question."
As for what Propst — a performer/collector/raconteur/provocateur — has planned, he says it will involve guns (fake ones, of course) and other objects from his collection at his rural Lawrence home.
During Friday's kickoff reception, he's planning to screen video of his late friend William S. Burroughs, a series of clips that have never been shown to the public. Also expect a series of grisly "chopstick murders" of stuffed animals and dolls, Propst says, probably one every half hour.
Propst says the gallery — including his and future exhibits — aims to show that just because someone's wearing a beret doesn't make them an artist. On the flip side, there are people who create fascinating things who don't consider themselves artists.
"Humans, in general, may be driven to make things," Propst says. "The people that we have in mind may well be pretty eccentric."