Monday, February 18, 2013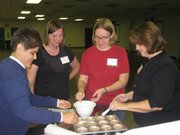 Why go out to eat when you can save money and impress your partner by cooking up something sweet? There's no time like the present to learn how to cook like a professional, and luckily, Lawrence offers a few learning opportunities to help.
Getting started
The Merc, 901 Iowa St., offers beginner's classes for $5 once a month. The next beginner's class will be from 6 p.m. to 7 p.m. March 2. Beans and grains will be the theme of the class. The Merc also offers a variety of other cooking classes that range in cost from $18 to $30.
Every month, Hy-Vee, 3504 Clinton Parkway, has at least one adult wellness and cooking class and one class for children. This month, the theme is Mardi Gras — a beans and legumes class will be from 5:30 p.m. to 7 p.m. Feb. 28, and a tea pairing class will be from 5:30 p.m. to 7 p.m. Feb. 25. All classes are $5, which is refunded through a gift card to Hy-Vee after the class.
Later this year, K-State Research and Extension—Douglas County will offer Cooking 101, starting in October and ending just in time for Thanksgiving. During the seven-week program, participants learn knife skills and how to prepare veggies, fruit, pasta, beans, dairy, meat, fish and more.
The hands-on class happens once a week and is two-and-a-half hours long. The class costs $85 per person and $150 for couples or two roommates.
Cost
$5 to $150
Where to go and experts
To see a full list of classes or to sign up for a class at The Merc, go to communitymercantile.com.
To sign up for Cooking 101 with K-State Extension, call Susan Johnson, the nutrition educator, at 843-7058.
To get a full list of classes at Hy-vee, email Kylene Etzel, a dietitian at Hy-Vee, at ketzel@hy-vee.com. Newsletters can also be found in the store. To sign up for a class, fill out a form at the customer service counter.
More like this story on Lawrence.com