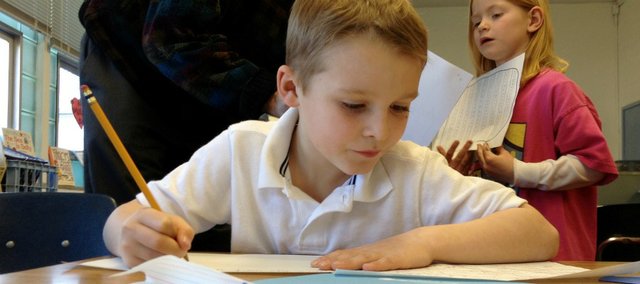 Monday, February 18, 2013
Photo Gallery
Writing workshop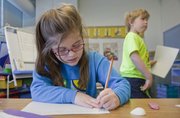 First-graders at St. John Catholic School practice their writing skills on Monday afternoons.
If first-grade creative writing were a language, it would be an obscure one. And Gini Shoulberg would be fluent.
The nekes stashun.
My fimliy luv miu.
The wepuns.
Under Shoulberg's direction, hand-penciled passages like these are carefully translated into comprehensible nuggets and, eventually, strung together into stories.
The next station.
My family loves me.
The weapons...
For more than a decade, the first-grade language arts teacher at St. John Catholic School has led weekly writing workshops for all the school's first-graders. While spelling and punctuation are important, she says, children don't need to wait to master those skills before they start writing.
"I feel that it is really important for young children to feel free to write … that they feel comfortable putting their thoughts on paper," Shoulberg says.
After all, sometimes — even for the pros — the hardest part about writing is the process: What do I write about? How do I start? How do I wrestle what's in my head onto the page? How do I make sure it makes sense to someone else?
On top of all that, feeling "bombarded" by spelling and grammar rules can make writing a first-draft intimidating, Shoulberg says.
In her Monday afternoon workshops, kids can write about whatever they want. Shoulberg, her fellow first-grade teacher Jennie Setili and longtime volunteer Tom Mach — plus any parents who are free Monday afternoons and want to stop in — huddle down next to students at pint-sized tables for the translation (aka "editing") process.
Words are scribbled out, erased and rewritten, with spelling, capitalization and periods added above in red pen. Students pencil new copies of their corrected stories, then an adult types them up, leaving space for the children's own illustrations on each page. When one story is complete, students can start on their next ones, enabling everyone to work at his or her own pace.
Reading his own first draft aloud to Mach on a recent afternoon, Jude Godfrey stumbles on a sentence he wrote himself and laughs: "Oh, that doesn't make sense!"
He and Mach work together to pick the right words and form sentences that do make sense. Jude says he likes writing, but "only at this time Monday."
Classmate Henry Kelly, busy illustrating the cover of "My Buddy Jacob" at the next table, says he thinks writing is fun.
"I've never actually wrote a story before I started first grade — I mean, I've tried to, but I really haven't," Henry says. "Nobody knew what actually I was writing."
Mach, a Lawrence resident and author, has been helping children in Shoulberg's workshops for eight years.
"Their minds are so fresh, they just will absorb things," Mach says.
St. John principal Pat Newton says Shoulberg can look at a child's handwritten passage that makes no sense to anyone else and know exactly what the child is trying to say. First-graders vary widely on their writing skill level, Newton says, and the workshops are a great way to meet each student's needs at his or her own pace.
"The kids that can just barely put down words, they're successful. And the kids who can write fluently, they're successful," Newton says.
Each student has an "About the author" poster in the hallway, and their latest works are pinned beneath them for all to see. Newton sees that as icing on the cake for first-graders getting the chance to express their dreams, thoughts and experiences on paper.
"You always want to tell your stories," she says.
Students' story time
A few of the stories first-graders were working on during a recent Monday afternoon writing workshop at St. John Catholic School:
My Family, By Brynn Cordova
My family loves me. I love my family, too. It is fun to love family. It is fun to love my family.
My Fourth Trip to Disney World, By Benjamin Matamoros
It was Wednesday. We were in Disneyworld. The first park that I went to was the Magic Kingdom. It had my favorite ride … Splash Mountain.
Super Author — Mr. Mach, By Jenna Dernovish
Mr. Mach is a nice guy. I love the way he teaches us to write. He wrote six books. His last book is "Angels at Sunset." I love Mr. Mach.
My Buddy Jacob, By Henry Kelly
My buddy, Jacob and I like to play volleyball. We also like to play foursquare and ball tag. We do lots of stuff together. We both like it!
Cherry Pie, By Aubrey Augustine
I like Mom's cherry pie. I like cherry pie. It is good! My mom makes it for snack.
Hero Factories, By Osmond Chong
Hero Factories is the bravest of all heroes. The rebuilt the weapons and armor. Rouk, Stinger, Stomer, Ferno, Nex, Bolk, and Serge fight. Rouk fights the Black Phantom.
Saint John School, By Mundeep Kaberwal
Saint John School is cool. Saint John School is the best. Saint John School is the big school. The kids in the Saint John School are usually Catholic.