Thursday, February 21, 2013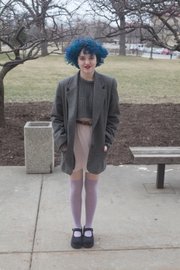 Age: 20
Hometown: Topeka
Time in Lawrence: Two years
Occupation: Archaeology student
Dream job: an archaeologist working in South America.
What were you doing when scouted: Reading a book called "Ancient Tiwanaku."
Describe your style: My style is really different from day to day. It runs from classic tailored merino wool coats to a faux fur leopard coat. I really like to mix up patterns with my beloved glitter eyeliner.
Fashion trends you love: I really don't know if anything I love is in line with any trends. However, I'm really into blazers and I like styles that mix a schoolgirl sophisticated look with glitter.
Fashion trends you hate: It's hard to say I hate a trend because I really couldn't care less about what other people are wearing. Fashion on some level is an opportunity to inform people of who you are.
Fashion influences: I really like Marianne Faithfull, Björk, Iggy Pop and David Bowie. I also learned a lot, surprisingly, from my mom, who is responsible for my love of boots and long skirts. She has a very sophisticated yet earthy sense of fashion.
What would you like to see more of in Lawrence: More pie shops!
Less of? I'm pretty happy in Lawrence. Maybe less college bars and meter maids.
Tattoos or piercings: None
Who do people say you look like? I hear Helena Bonham Carter fairly regularly.
What type of music do you unwind to: Leonard Cohen and Patti Smith
Tell us a secret … In fourth grade, I cheated on a spelling test!
More like this story on Lawrence.com