Thursday, February 21, 2013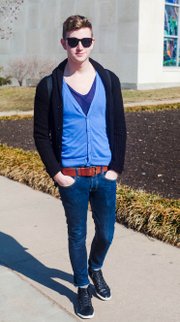 Age: 22
Relationship status: Single
Hometown: KC, Mo.
Time in Lawrence: Five years
Occupation: Sales associate
Dream job: Development for H&M;
What were you doing when scouted: Heading to a textile studio
Describe your style: I don't know. I just liked cardigans this morning! I'm actually trying to break out of just a basic Kansas style while incorporating more of a New York style. I heard meggings were coming in, so I should probably get a pair.
Fashion trends you love: Heritage and simple black and white prints.
Fashion trends you hate: UGGs! They just don't work on anybody.
Fashion influences: I'm influenced by what I see on the street or at work.
What would you like to see more of in Lawrence? Maybe more thrift and consignments shops that are like Arizona Trading Company or better.
Less of? I don't know. I love Lawrence.
Tattoos or piercings: None
Who do people say you look like? A Norwegian

What type of music do you unwind to? Beats Antique, which is an blend of Middle Eastern belly dance music, down tempo and many styles of electronic music.
Tell us a secret … I'm a "Seinfeld" addict!
More like this story on Lawrence.com