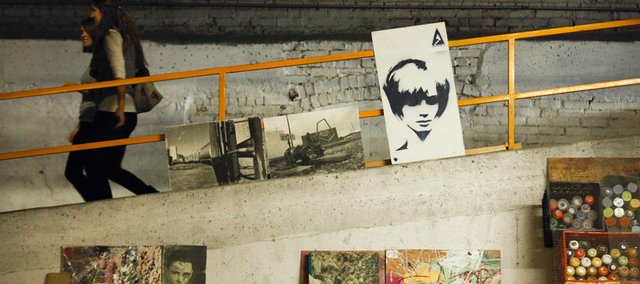 Friday, February 22, 2013
Other community closings
Click here for a list of area school closings and other cancelled community events.
With Lawrence still digging out from Thursday's snowstorm, most art galleries are rescheduling planned Final Fridays events for next Friday, March 1.
However, some activities are still on and others have been rescheduled for other dates.
Here's a roundup of event updates the Journal-World has confirmed. To have a Final Friday event added to this list, please email reporter Sara Shepherd.
Rescheduled for Friday, March 1:
• Essential Goods: Event rescheduled from 6-9 p.m. Friday, March 1, at the Palladian Building, 15 E. Seventh St.
• Wonder Fair: Opening festivities of Andy Hadle's "Cheese and Rice Sonic Rush" are rescheduled for 6-9 p.m. Friday, March 1. Wonder Fair, 803 1/2 Massachusetts St., will remain open with a skeleton crew throughout this Final Friday evening, offering a sneak peek at the show to intrepid Lawrencians. For the snow-bound, Wonder Fair will present a virtual tour of the exhibition online via Facebook.
• Invisible Hand Gallery: Friends of the Hand group show opening party is rescheduled for 5-9 p.m. Friday, March 1, at the gallery, 846 Pennsylvania St. In the meantime, the show will still be up and available for viewing.
Rescheduled for other dates:
• Lawrence Arts Center Final Fridays events: The reception and kickoff performance for the new Antecedent Gallery curated by Wayne Propst and Roger Shimomura, a closing reception and book signing for the Vim exhibit and the kickoff for Carla Aspenberg's exhibit have been rescheduled for 7-9 p.m. Thursday, March 7.
• The Phoenix Gallery: Reception rescheduled for March Final Fridays.
• Lawrence Art Party: Artists and event at at 718 New Hampshire St. rescheduled for March Final Fridays.
• Douglas County Genealogical Society "Brick Wall" session: Rescheduled for March Final Fridays, from 5:30 p.m.-7 p.m. in the basement of Watkins Community Museum of History, 11th and Massachusetts St.
Still on:
• Love Garden: Katie Euliss (of Truckstop Honeymoon) is playing a show to celebrate the release of her solo CD, "40 Watt Dreams." The event begins at 6 p.m. at Love Garden, 822 Massachusetts St.
• Seed Co. Studios: The Fresh Produce Art Collective's open studio event, featuring a listening hub for Whatever Forever's new cassette tape, will go on as planned at 826 Pennsylvania St.
• Friday night guest productions at the Lawrence Arts Center, including the University Dance Company performance and the Jayhawk Initiative for Student Theatre's production of "One Wild and Precious Life."