Sunday, February 24, 2013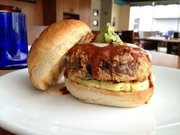 Is a gourmet heart-attack-on-a-plate an oxymoron? Maybe. However you want to classify it, one of Lawrence's fanciest restaurants is home to one of the city's most over-the-top burgers: the half-pound beef patty is breaded and deep fried.
Pachamama's usually has at least one such "country fried" burger on its menu. Currently, that would be the Murder Burger, the hefty fried patty is stacked on a pineapple ring, doused in asadero cheese fondue and chile rojo sauce, topped with a dollop of guacamole and served on a thick, toasted bun.
Make no mistake, this is a "Diners, Drive-Ins and Dives"-worthy burger. But the presentation is exquisite.
Where to get it: Pachamama's, 800 New Hampshire St.
What you'll pay: $9. Sides are extra.
Try it with: A knife and fork — this is a messy meal. A salad might be in order, too.
Also on the menu: Roasted Marrow Crostini appetizer, Flash Fried Spinach, a sandwich called "The Turducken" (fried duck tenders, chicken liver paté, sage-turkey sausage on an English muffin), and high-end entrees such as the Colorado Lamb Rack and Wood Roasted Arctic Char — for now. Many items on the Pachamama's menu change seasonally.
— Off The Beaten Plate highlights some of the more exotic, oddly named or inventively concocted (for better or worse) dishes from local menus. Know of an offbeat menu item we should check out? Email food and features reporter Sara Shepherd at sshepherd@ljworld.com. Tweet her at Twitter.com/KCSSara.