Sunday, February 24, 2013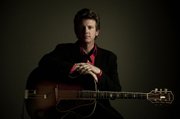 Wizards from Kansas also inducted
In 1970, five guys from Kansas released an eponymous album that became their one and only flash with national notoriety together. Having met at Kansas University a year before, their label talked them into dropping "Pig Newton" from their name and they became "just" the Wizards from Kansas.
Wizards from Kansas, originally from Lawrence, are being inducted into the Kansas Music Hall of Fame this year. They're still known as a psych-rock gem, heavily influenced by West Coast psychedelica of the day and featuring a highly revered cover of "High Flying Bird."
The Wizards disbanded in 1970, but some of the band's members, including founder J.P. Coffin, still play in the Kansas City area, and the Wizards released a reunion album in 2009.
Chuck Mead says he's excited he gets another chance to stomp around his old stomping grounds next month — Liberty Hall, that is, where he once worked as he was supporting himself as a Lawrence musician.
He lives in Nashville now, and 20 years after leaving Lawrence, he'll play the Liberty Hall stage as an inductee to the Kansas Music Hall of Fame.
Mead grew up in Lawrence, "a terrific place where I got to do a lot of things," he says, but moved to Nashville in 1993 because "it was time to leave the comfort zone, go pro." And his now-wife was moving to the area, too, to "the center of the hillbilly music universe."
"Going pro" seemed to serve him well. In Nashville, he founded BR549, a country quintet that went on to score three Grammy nominations and a Country Music Association award.
A country star, Mead's aware of his roots in Midwest alternative music and is a player in Nashville's re-emergence as not just the "hillbilly" place, but an important part of a wide range of the music industry.
He's currently in Las Vegas working as music director for the Broadway show "Million Dollar Quartet." He's a Kansas native quick to joke about "legacy" meaning age, but he doesn't show signs of slowing in the career he's built from his second home.
And even in Nashville or Vegas, Lawrence travels with him, he says.
"Lawrence is really the center of the universe," he says. "All the time, I run into musicians from there or who have gone through, know it well."
So, no stopping him as he continues as music director and musician in his own right, but of course he's honored to be honored by the Kansas Music Hall of Fame, he says. Really, though, he's looking forward to that stomping. Come out to celebrate with him, he says. "We'll be breaking stuff."
That joke about legacy?
"I can't believe that I'm so old that they finally got around to me."
More like this story on Lawrence.com