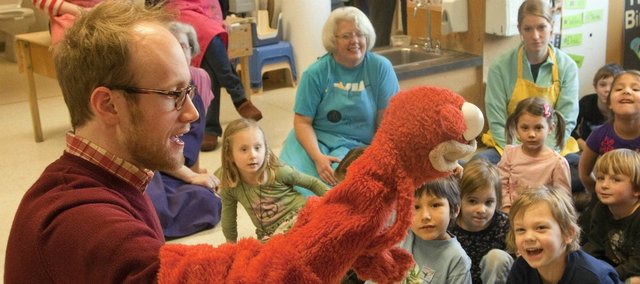 Monday, February 25, 2013
In kindergarten, Spencer Lott drew a picture of Kermit the Frog and decided he'd be the next Jim Henson.
Lott's now an adult and acknowledges that few children's dreams come to fruition. But his did.
Lott, of Kansas City, Mo., works as a professional puppeteer. He creates, designs and operates puppets for a living.
When Tallgrass Brewery needed a talking and indignant rooster to advertise its Velvet Rooster beer, he was their man. When the Lawrence Arts Center wanted a life-size Minotaur, he spent 25 days building a monstrosity that took five people to operate.
Lott says he loves puppetry because it allows him to translate his imagination to reality.
"The knowledge that it's just a person pretending, it's not real and yet it's so believable, that's what drew me to puppets," he says.
He gets to act out his imagination at work, but the job is much more than that. He has to sell his work, then pitch it to producers and companies. He has to know how to market himself.
"Half of the job is just convincing people that puppets are what they need or not necessarily what they want," he says.
When a company or a producer decides to use a puppet in a project, Lott begins to formulate a design in his head. This can lead to some interesting projects.
"People will ask for caricature puppets: 'Build a puppet of my grandma,'" Lott says. "I've meet science fiction people who want a giant robot for their living room. I know of all kinds of puppet builders who get hilarious and awkward requests."
After he and his client agree on the puppet idea, he puts the design on paper and starts building mock-ups. He uses all materials imaginable in building: wood, foam, plastic, straps, buckles and Velcro, to name a few. He knows the craft stores and he knows where the deals are at.
After he has his mock-ups and the puppet design settled, he works on the final project. He says each puppet's character grows in construction. He also often operates and voices the puppets for his clients.
Lott, who grew up in Lawrence, said he has always been a creative person. He remembers putting on puppet shows by his parents' bed. He would use what he could find — socks or gutted stuffed animals, for example.
Eventually his puppetry became more complex. In grade school, he would head down to the library and check out books on puppet-making to further refine his skill.
Lott says he had incredibly supportive parents and teachers. His grandfather fashioned him a puppet stage from wood, which he still has. But not everyone always understood his obsession.
"Junior high and middle school was rough like it is for everyone," he says "I would go home and build on Saturday. I wouldn't necessarily talk about it or share it. It wasn't till high school that I got confident that I claimed it and told people it was cool instead of letting them decide."
Lott, who attended Free State High School, says his friends' minds changed after they started to get real jobs mowing lawns while he "could do two to three shows a month and pay for burritos and be really happy as an 18-year-old."
He later attended Kansas University and earned a bachelor's degree in theater, further refining his skills as a puppeteer.
He now makes his living as a freelancer, one that affords freedom but little else. He says to be successful he must work constantly, sewing and building puppets, working out characters and sending out email after email.
"Puppetry is not easy," he says.
"It's a fun conversation to have at the dinner party, but that doesn't mean I can afford the dinner," he jokes.
Still Lott, 25, has made a go of it.
He no longer needs a part-time job to support his passion. He splits time between Kansas City and New York City, where he works as a teaching artist in an off-Broadway theater. He's moving to New York, a center of the theatrical puppeteering world, he says, in the spring. He plans to pitch a television pilot involving puppets.
Even though he has established himself, people still occasionally question his occupation.
"I say, well, I'm very lucky I have wonderful parents and teachers. Wouldn't it be lucky if you were able to do what you wanted to do, too?"
Lott also added people often change any misconceptions they have once they meet him.
"Once I've won you over as a normal guy who wears glasses, then it's like, oh yeah, I have the coolest job around."