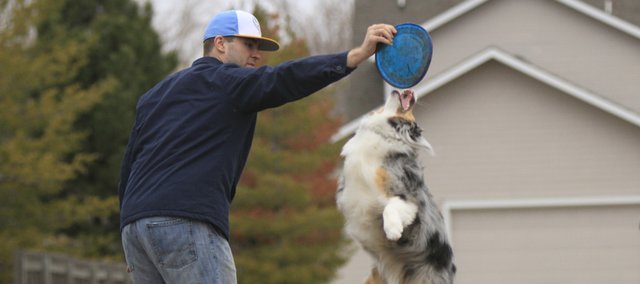 Monday, February 25, 2013
Photo Gallery
Special-needs pets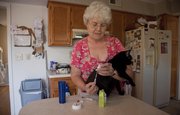 Lawrence residents who own pets with disabilities say their animals are worth the extra TLC. Most of the time, they add, their special-needs dogs and cats don't seem to notice they're any different from other pets. See some of these pets in action.
Hibiscus crouches under a chair, her back to the wall.
She tips her face upward — ears perked, whiskers at attention — to determine who's at the door. Unsure, she stays put.
With sunken sockets and fur where a normal cat's eyes would be, Hibiscus awaits the trusted voice of her owner, Mary Bellamy, to let her know it's safe to come out. Within minutes, she's begging to be scratched, then tumbling all over the floor with a mouse toy.
Lawrence residents who own pets with disabilities say their animals are worth the extra TLC. Most of the time, they add, their special-needs dogs and cats don't seem to notice they're any different from other pets.
"Once you find a pet that you love, I think it's pretty easy to overcome any difficulties," Bellamy said.
Some pets' disabilities emerge later, but many people, like Bellamy, adopt them that way.
Lawrence Humane Society occasionally takes in three-legged pets, or tripods, as well as animals that are blind, deaf or a combination of both, said client care associate Ramona Kemberling. Right now there's even a foundered Shetland pony, who is healed but will never again be rideable, awaiting a permanent home.
The right home — with an owner willing to put in extra time, patience and special training if needed — can help disabled animals thrive, Kemberling said.
"It's amazing how these animals adapt," she said, adding, "You have to be able to adapt as much as they do."
Hibiscus
Bellamy brought Hibiscus home right after a surgery to remove her eyes, which had never developed enough for her to see.
She introduced the cat to the house one room at a time. Once Hibiscus memorized a room, usually in less than a week, Bellamy moved the baby gate to open up another. Now, she tries to keep the house free of clutter and is careful not to move Hibiscus' food and litter box.
Hibiscus was shy at the shelter, Bellamy said, but she was a real "lovebug." Bellamy, who is taking classes to become a vet tech, said adopting a blind cat was intimidating but that her experience with animals helped her confidence.
"I felt like I was up to the challenge," she said. "But it really hasn't been too much of a challenge."
Izzy
Izzy the Australian shepherd tears across the yard, a fireball of fur. She leaps to snare a flying disc from her owner's hand, legs launching well off the ground — all three of them.
Mario and Brooke Fontana bought Izzy as a 10-week-old puppy weeks before moving from Boston to Lawrence. Last May, just before Izzy turned 1, she ran away from where they were playing catch and was hit by a car on Sixth Street. Devastated, Mario took the seemingly lifeless dog to a nearby vet and was shocked when they told him she was still alive. In a few days, Izzy returned home with only one permanent injury — her right front leg.
For weeks, the Fontanas nursed the mangled leg in hopes it would heal. When the leg took a definitive turn for the worse, they took Izzy to the vet to have it amputated. The energetic dog was up and moving the next day, Brooke said, almost like she was trying to tell them, "It's about time."
Izzy hops awkwardly when she walks, but her run is smooth. Her remaining front leg has grown strong enough that she can do everything she used to. Mario is a firm believer in the saying of television's "Dog Whisperer" Cesar Milan that dogs live in the now.
"We forget that it's even an issue," Mario said. "We don't see her as a disabled dog."
Midnight
It's almost as though Midnight knows she needs the shots to live. Every morning and again every evening, the jet-black cat sidles up to owner Betty McKinley and sits calmly for insulin injections.
McKinley noticed Midnight roaming the neighborhood about six years ago and took her in. The next year, after battling recurring eye problems, a vet diagnosed Midnight with diabetes. McKinley has multiple folders fat with paperwork from the vet. Checkups and insulin are expensive — $110 of insulin lasts a couple months, McKinley said — and while McKinley's dog and other cats stay home when she leaves town, she can't leave Midnight.
Fortunately, Midnight loves to go "car-riding," McKinley said, whether it's a quick trip to the gas station or long drives to visit relatives in Arkansas.
"When I go anywhere, she goes," McKinley said.
Midnight has been a faithful sidekick while McKinley herself has dealt with health problems.
"She's not special to anybody else but me," McKinley said. "She helps me through the hard times."
Kate
When somebody found Kate wandering — on three legs — east of town and brought her to the Humane Society, she was very skinny. Compared to the other dogs at the shelter, the tawny-colored lab-mix was introverted and didn't attract much attention. But one day, after slipping out of her kennel during a feeding, she made her way to the front desk, where she caught the attention of shelter facilities coordinator, Tim Berendsen.
"It was just kind of love at first sight," Berendsen said.
Most people don't immediately realize Kate is missing her back left leg (although when they do it's a surefire conversation starter), said Berendsen, who walks Kate 45 minutes or more every day. Except for the occasional wipeouts after a too-fast left turn, Kate doesn't seem to notice her disability either.
"What I learned was not to judge her because she had three legs," Berendsen said. "In her mind, she's just a dog. She likes to do everything every other dog does, and she can do everything every other dog does."
Jack
Kemberling herself adopted a blind dog three years ago and adjusted routines for the little black Schnoodle named Jack.
"We couldn't move furniture, we couldn't rearrange," she said. "Everything had to stay the same."
Jack knew where the door was and more or less knew the parameters of the yard. He knew when he hit the fence that he couldn't go any farther and had to choose between left or right. If Jack lost his bearings, Kemberling or her husband called to him from the door to coax him back inside.
When Jack died, just a couple weeks ago, he was 20 years old.
Kemberling said they pampered Jack a little but tried to let him be as independent as possible, just like their other dogs. She's glad she could give him a home where he was happy.
"It didn't seem to phase him that he was different," she said. "When I came home from work, he was there to greet me with his little tail wagging.
"He was able to be a dog."