Tuesday, February 26, 2013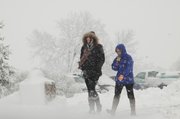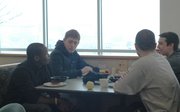 Just because Kansas University students don't have to go to class because of snow doesn't mean they don't need to eat.
A skeleton crew of KU Dining Services employees spent Monday night on campus to ensure they'd be in place to open all residence hall cafeterias for breakfast by the usual 7 a.m. Tuesday.
Not that they expected an onslaught of students at that hour.
"On a snow day, the reason for people to have to get up early goes away," said Mark Maranell, general manager at Mrs. E's Dining Center on Daily Hill, where fewer than 50 students instead of the usual hundreds had come through by 10 a.m. "The 45 people we've seen are probably your natural early risers."
Among the early birds was Mariela Borrego, a junior from Topeka who lives in McCollum Hall. She stuck to her typical eat-while-studying routine, toting her laptop and books into Mrs. E's shortly after 7 a.m.
"I'm willing to go through the snow to get a warm breakfast," Borrego said.
More students trickled in a couple hours later.
Jalen Maestas, a freshman from Leavenworth, said that on Thursday — while trudging through that morning's blizzard conditions toward the dining center — he worried it would be closed because classes had been called off. It wasn't.
Tuesday morning, Maestas was confident a hot breakfast would be waiting once he made the trek. He and three other friends from the fifth floor of McCollum dined on biscuits and gravy, scrambled eggs, cereal and pizza at a leisurely pace.
Maestas said he doesn't normally take time for breakfast at Mrs. E's.
"This is like a special occasion," he said.
Anticipating snow heavy enough to make driving difficult or impossible, KU Dining Services director Nona Golledge said she and about 19 other employees arranged to stay in empty residence hall rooms overnight, which they've done before during extreme weather conditions.
While retail dining locations, such as the Market in the Kansas Union, close when classes are cancelled, residential dining centers stay open for students all day.
"The students that live in the residence halls, it's difficult for them to get out, and they've contracted for a dining plan," Golledge said. "I do feel the students are appreciative of having food and beverage available."