Thursday, February 28, 2013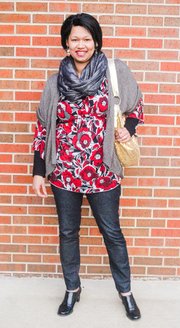 Age: 36
Relationship status: Married
Hometown: Clay Center
Time in Lawrence: 14 years
Occupation: I'm a professional singer and I also play the piano for Lawrence Public Schools at LHS.
Dream job: I'm doing it! I sing with Doc Severinsen. We sing jazz and sometimes we sing with symphonies where I sing well-known classical pieces.
What were you doing when scouted: Leaving parent-teacher conferences for my 9-year-old daughter.
Describe your style: I just wear things I like and I wear them together in a random way that makes sense to me.
Fashion trends you love: Infinity scarves are my favorite right now.
Fashion trends you hate: I am not a fan of low rise anything!
Fashion influences: I like to mix urban influences with extremely dressy styles — like urban meets society.
What would you like to see more of in Lawrence: I wish there were more occasions where people got totally dressed up. However, I don't think that everyone should be spending a fortune on clothing and only wear designer brands … but dressing up for a concert or to go out is a must for me.
Less of? I love the individuality and variety of style in Lawrence. Maybe less people wearing hemp packs?
Tattoos or piercings: Just two piercings in my ears.
Who do people say you look like? I get introduced as Vanessa Williams a lot and there's always a collective sigh of shock and then bam, it's me. Some people also think I look like Thandie Newton.
What type of music do you unwind to? It depends on what ever I feel like in the moment. It can span from opera to jazz to pop, etc. I just like music.
Tell us a secret … I used to have an Afro!
More like this story on Lawrence.com