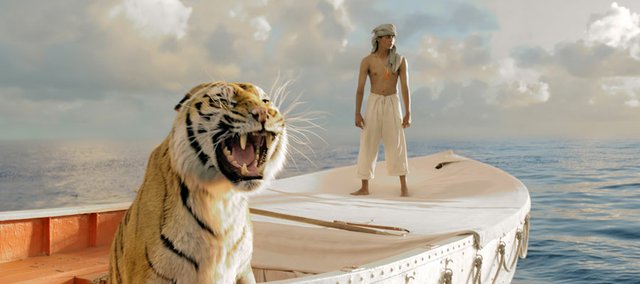 With a better-than-normal-slate of high-profile moves in 2012, filmgoers bought a record $10.8 billion in movie tickets this past year. Most of the best films of the year, however, didn't exactly catch fire at the box office. Here's my list of the Best Movies of 2012:
10 "Seven Psychopaths"
Irish playwright-turned-filmmaker Martin McDonagh's strange and clever dark comedy sank like a stone at the box office, just like his last effort, "In Bruges." But that one turned into a cult hit on home video, so I'm expecting the same thing for the similarly twisted "Seven Psychopaths." Sam Rockwell and Christopher Walken are laugh-out-loud funny as dog-nappers who become intertwined with fledgling screenwriter Colin Farrell, but a plot synopsis beyond that doesn't do the film justice. "Seven Psychopaths" tests the boundaries of narrative coherency, flying gloriously off the rails as it plays gleefully with genre expectations.
9 "Cloud Atlas"
This divisive epic from writer/directors Andy and Lana Wachowski and Tom Tykwer was recently named the "worst film of 2012" by Time magazine, proving that daring filmmaking will always be an easy target for cynics with little imagination. In adapting David Mitchell's novel with six different stories/genres set across a span of hundreds of years, the Wachowskis and Tykwer showcase how a universal yearning for freedom and truth is connected over time through the power of art and storytelling. Its multicultural casting stunt (with actors like Halle Berry and Jim Sturgess playing different characters and races) can prove a bit distracting, but its cumulative effect is ultimately rewarding—and speaks to its theme of human unity and respect.
8 "Lincoln"
Daniel Day-Lewis brings our famous and embattled president to life with the help of Steven Spielberg and screenwriter Tony Kushner in this fascinating and mature exploration of the months leading up to the adoption of the 13th amendment, which outlawed slavery in America. What could have been a standard-issue biopic instead tackles Abraham Lincoln's political maneuvering and shades of his troubled personal life with maturity and thoughtfulness. With the current gridlocked state of American politics, "Lincoln" is timelier than ever.
7 "Zero Dark Thirty"
Controversy is swirling around director Kathryn Bigelow's latest, even though it's only in very limited release right now and doesn't open wide until Jan 11. Written by her "Hurt Locker" screenwriter Mark Boal, the film is a searing account of the CIA's decade-long hunt for Osama bin Laden.
The Senate Intelligence Committee has condemned the movie's assertion that actionable information was obtained through torture, but the public record of interviews and leaks illustrates another story. Either way, "Zero Dark Thirty" is a riveting account of one woman (Jessica Chastain), her dogged pursuit of the most wanted man in the world, and all the fascinating contradictions surrounding that mission. "Zero Dark Thirty" is a dense thriller that profiles the soul of post-9/11 America in all its complexity.
6 "Beasts of the Southern Wild"
Shot from the point of view of a 6-year-old girl named Hushpuppy (the remarkable Quvenzhané Wallis) who loses her home to a hurricane and has a sick father who can barely take care of her, "Beasts of the Southern Wild" often has a dream-like quality to it. First-time director Benh Zeitlin captures the anguish and heartbreak of her situation, but also the rugged individualism and pride of a marginalized society.
Here's the trick: This tale of unique courage doesn't have the typical über-realistic vibe you'd expect from a movie like this. Rather, Zeitlin filters everything through Hushpuppy, so even as you feel the tragedy inherent in her situation, her will to survive becomes more fantastic, while also taking on more emotional depth.
5 "Silver Linings Playbook"
Romantic comedies are really tough to pull off. The vast majority of contemporary rom-coms are often insulting and always formulaic. So when something like David O. Russell's remarkable "Silver Linings Playbook" comes along, it feels like a minor miracle. Bradley Cooper and Jennifer Lawrence are gloriously entertaining as a couple of damaged misfits who desperately need something good in their lives, and even though the film eventually falls into one part of the rom-com formula, it always feels nervy and alive.
With its smart dialogue and tons of energy, "Silver Linings Playbook" will surely become a modern classic.
4 "Killer Joe"
Speaking of nervy, Matthew McConaughey turns in one of the most frightening performances of 2012 as the title character of the NC-17 "Killer Joe," a deeply twisted, white trash neo-noir that revels in its depravity almost as much as it enjoys toying with audience expectations. Director William Friedkin ("The Exorcist") throws McConaughey's killer-for-hire in the middle of a dysfunctional family of Shakespearean proportions, and comes up with a movie that feels truly dangerous in all the weirdest places.
3 "Life of Pi"
As much as it is a breathtaking piece of visual cinema, director Ang Lee's "Life of Pi" is also a challenging allegory about the power of storytelling. Amid the engrossing and unlikely suspense tale of a young boy stranded at sea with a Bengal tiger, there also exists another layer of meaning. Lee expertly balances a whimsical tone with edge-of-your-seat thrills, and the final act of the movie gives it a poignancy that echoes long after the final credits have rolled.
2 "The Master"
Besides being a showcase for two of the best performances of the year (from Joaquin Phoenix and Philip Seymour Hoffman), Paul Thomas Anderson's "The Master" is perhaps the most mysterious movie of 2012. At its core, it is a deep character study of the father/son, mentor/acolyte relationship of a shellshocked WWII veteran and a rising cult leader.
"The Master" is alternately frustrating (with its refusal to adhere to traditional dramatic structure) and invigorating (its portrayal of naked, raw emotion) and demands repeat viewings. It has a crazed, jagged rhythm and is rich with all kinds of parallels.
What nobody seems to be mentioning amid all this serious talk is how funny "The Master" is as well.
1 "Amour"
"Amour" is French for "love," a theme that is explored richly and starkly in the newest film from Austrian provocateur Michael Haneke. Quiet, efficient and absolutely devastating, "Amour" profiles an elderly French couple in their last days together.
Because of that dark premise, some audiences might stay away, but they would be missing out on a clear-eyed masterpiece of cinema. As Georges and Anne, Jean-Louis Trintignant and Emmanuelle Riva express a love for each other so deep that it's all the more painful when Anne suffers a stroke and her health goes into rapid decline. But "Amour" isn't a sentimental "disease" picture at all. It's a graceful, moving story of love and respect, told with Haneke's fiercely intelligent and unwavering eye.