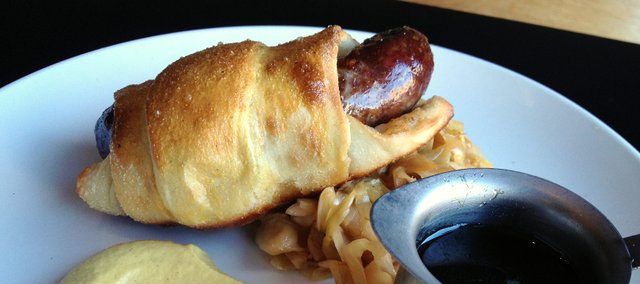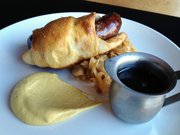 Think "pig in a blanket," and you most likely think "Oscar Mayer wieners" and "elementary school cafeteria." How could this kid-favorite land a spot on the lunch menu at an artisan, foodie-approved European bistro?
Well, that bistro doesn't take itself overly seriously. And basically, chef Michael Beard says, pigs in blankets are just fun.
Forget about Oscar Mayer wieners, though. 715 serves a grownup version more likely to remind your tastebuds of Germany than the school cafeteria. A bratwurst-sized parmesan and garlic sausage is wrapped in a thick, golden crust and served atop a bed of house-fermented sauerkraut. There's a smear of strong mustard and — to bring those tastebuds back to America — a tiny pitcher of maple syrup on the side.
This pig in a blanket also comes with a steak knife, in case you feel too grown up to pick it up with your hands.
Where to get it: 715, 715 Massachusetts St.
What you'll pay: $7.99
Try it with: The maple syrup, mustard or both — but probably not in the same bite.
Also on the menu: Boutique cocktails flow anytime, but the food depends what day and time you arrive — and what kind of animal Beard has butchered that week. Lamb and goat (offal and all) make appearances on the specials board, as does seafood such as tilefish and striped bass. On the regular menu, there's fresh salads, European pizzas and a few other sandwiches for lunch; fried chicken livers, handmade pasta and rabbit ravioli for dinner; and quiche, smoked trout benedict and baguette with Nutella for brunch.
More like this story on Lawrence.com