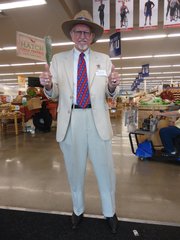 "This is your job?" is the question I'm most frequently asked when I interview someone for Style Scout, a Q&A; column in the Journal-World that features Lawrence's most fashionably (or interestingly) dressed.
"Yes, this is my job," I say with a smile, trying to remain fully present with this person while also maintaining a subtle survey of the street, trying to spot the next stylish person I'll just so happen to "run into."
"How do you do it?" is the next most frequently asked question.
I probably do it a lot like you would:
Buy a latte
Sit on a bench and people-watch
Get asked quite regularly if I've been stood up while sitting on said bench, drinking said latte
Run (literally) after potential scoutees when I spot them
Most of the time, you'll see me zigzagging through crosswalks, creating the quickest route possible, guessing which way the person is going to turn before he or she does. And then, after I'm sufficiently out of breath and sweaty, do I casually intersect the person I'm scouting and ask, "Excuse me, ma'am/sir — have you ever been in Style Scout?"
And it never fails that their eyes search my entire face questioningly for about three seconds before saying, "Nooooo?"
There are, in my estimation, three subsets of people I scout. There are Lawrencians I've seen around town for years, Lawrencians I'm encountering for the very first time and out-of-towners that, for some reason, seem to catch my eye.
The first subset of people includes, most notably, Chuck "Colonel" Benedict. After too many trips to Hy-Vee without more than a "hello" to Chuck, the greeter, I shamelessly used my Style Scouting façade as an excuse for a conversation. After his feature ran, he called me to tell me that he had received many compliments, and he sent flowers to my work. Gentlemen everywhere, please take note.
And then there's those Lawrencians whom I have the honor of encountering for the first time. People like David Brown, an attorney in town, who ambivalently answered my questions with charisma while at the same time, asked, "Why me? Why me?"
The last subset of people — the out-of-towners — includes people like Rhonda Swade and Matthew Paige, two of my most favorite scoutees. Rhonda is the mother of Josh Swade, the director of the "There's No Place Like Home" documentary about James Naismith's original basketball rules. Matthew Paige is a touring musician whose feathered cap I spotted from a block away.
Style Scout is a simple and fun piece, but for me, for a mere five minutes, I get to be entrenched in a person's everyday life.
I get to ask personal questions that don't seem weird because they're behind the Style Scout veil. I get to see people when they're mulling over an answer, when they're completely dumbfounded. I get to see them interact with their friends, and when I say, "Tell us a secret," I get to see them shoot a nervous glance over to their significant other.
We exchange tidbits about each others' lives, and, for five minutes, I get a peek into the different parts of what makes this community tick. It almost makes being stood up worth it.
— Ali Edwards can be reached at go@ljworld.com.
More like this story on Lawrence.com