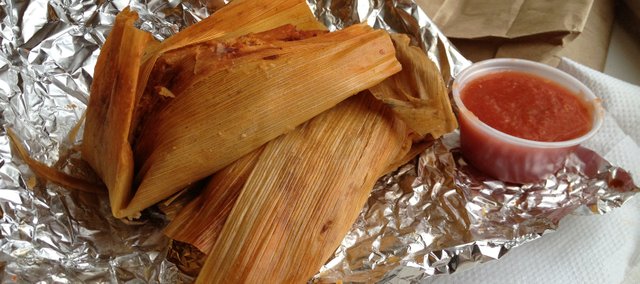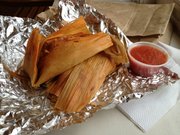 Lawrence has a lot of Mexican restaurants, and a lot of them serve tamales. But tamales from a drive-thru? Decorated with a mural of a Jayhawk in a sombrero? Until 2 a.m.? Burrito King has that market cornered. The hot treats — slightly spicy shredded meat encased in masa (dough) and steamed in corn husks — come wrapped in foil and stuffed in a brown paper sack with a couple of flimsy napkins, just as drive-thru food should.
Where to get it: Burrito King, 900 Illinois St.
What you'll pay: $2 each, $10 for a half-dozen, or $19 for a dozen.
Try it with: Salsa, also located in the aforementioned paper sack.
Also on the menu: Huge burritos for any time of day (breakfast burritos come with eggs, steak, chorizo, ham or bacon, or all of the above) and other Mexican foods of the hand-held variety. A sign on the side of the building lays claim to having the best Mexican soft tacos in town.
— Off The Beaten Plate highlights some of the more exotic, oddly named or inventively concocted (for better or worse) dishes from local menus. Know of an offbeat menu item we should check out? Email food and features reporter Sara Shepherd at sshepherd@ljworld.com. Tweet her at Twitter.com/KCSSara.