If you go
"An Evening with Suzanne Vega and daughter Ruby Froom" is set for 7:30 p.m. Saturday at the Lied Center, 1600 Stewart Drive. For ticket information, visit lied.ku.edu or call the ticket office at 864-2787.
A Talent Showcase featuring primarily students from the area, for whom Vega and Froom will offer feedback, also is open to the public. The free, acoustic show is at 7 p.m. Friday in the Lied Center Pavilion.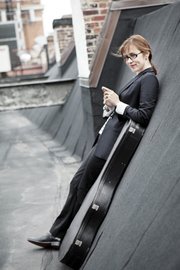 If you were familiar with Suzanne Vega's biggest hits in the 1980s, it takes but a snippet of each for them to zoom forward a few decades and re-stick in your head.
Since coming out with "Luka" (My name is Luka, I live on the second floor... Just don't ask me what it was...) and the catchy, head-bobbing "Tom's Diner" (It is always nice to see you, says the man behind the counter, to the woman who has come in, she is shaking her umbrella...), Vega has continued singing, writing songs and making records to favorable reviews.
On Saturday, Vega will take the Lied Center stage along with her daughter, 18-year-old Ruby Froom. Their performance is part of the Lied's PlayIt Forward series, featuring innovative female artists who are forerunners in their respective genres.
As PlayIt Forward performers, the mother-daughter duo also will engage in interactive events the Lied Center has set up with select area musicians and songwriters.
Saturday night, the beginning of Vega and Froom's tour, audience members may hear some new material, says Vega, interviewed via email.
They'll also be performing with guitarist Gerry Leonard, musical director for David Bowie, who just came out with a new single.
Vega's last album of new material was "Beauty & Crime," released in 2007. Since then, she says, she's re-recorded her catalog on her own label — she's calling it "The Close-up Series" — and has four volumes of mostly acoustic music on the label.
Vega, 53, says she's been performing with her daughter since Froom was about 11.
Now 18, Froom attends Williams College in Williamstown, Mass., where she's studying music and neuroscience. She was a vocal major in high school and already an accomplished musician, Vega says.
"She enhances the performances because she's a terrific singer in her own right, and her harmonies and phrasing match mine in a complementary way," Vega says. "And she's poised and has a lovely presence."
When Lied Center associate director Karen Christilles saw Vega perform, she noted how Vega spoke about people who supported her early in her career, and also of how she tries to nurture her own daughter's talent and support other artists.
That sentiment makes her a great fit for the PlayIt Forward series, says Anthea Scouffas, director of education and engagement for the Lied Center. Scouffas says she's excited for Vega to share some of her talent in the Lawrence community, as well.
"She is an amazing songwriter, and we just thought it would be a really great opportunity to have her work with some of our local songwriters," Scouffas says.
Friday night, musicians, mostly students, will perform an acoustic, coffee shop style Talent Showcase where Vega and Froom will offer feedback. On Saturday, Vega and Froom will meet with a small group for a private Songwriter's Workshop at Lawrence's Americana Music Academy. Participants have already been selected, and while the Talent Showcase is open to the public, the Songwriters Workshop is not.
Workshop participant Jim Krause, a Lawrence resident and Americana Music Academy teacher who organized the Lawrence Songwriters Circle, says critiques have helped his writing in the past and that he's looking forward to his opportunity to run material by Vega.
"The chance to get a song that's never been performed in public or recorded or otherwise heard ... an honest evaluation from somebody who is a few rungs up the ladder ahead of me," he says. "I'm really kind of excited about it."
Likewise for Paul Fowler, of Wichita, a singer-songwriter who performs as James Paul. Paul, 27, is one of the performers chosen for the Talent Showcase.
He says he's excited to perform with other songwriters as well as learn from Vega's depth of experience.
"We all have something to offer to each other," Fowler says. "I know that her being there will be fantastic ... as an artist, she's been doing it forever."
Vega says she likes seeing "who is out there" and encouraging them.
For aspiring songwriters who may not get her feedback this weekend, Vega offers some general advice.
"Develop your own style. Figure out what you want to say that's different than what other people are saying. Play on a stage to real people, as well as work the social media. Then keep going!"