Wednesday, January 30, 2013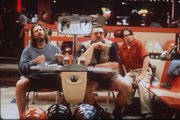 Lawrence's Achievers will don their favorite ratty sweaters, put on some Creedence and sip on some Caucasians at the Granada on Thursday night.
And proud we are of all of them.
Those "Achievers," as fans of the 1998 cult classic movie "The Big Lebowski" sometimes refer to themselves, will gather for a Big Lebowski party at the Granada, 1020 Massachusetts St., at 8 p.m. Thursday. The venue, which has its early roots as a movie theater, will welcome fans for a costume party, white Russians, loud quoting of the film's countless memorable lines and more.
Granada manager Mike Logan said the venue has been hoping to have more movie-themed events, and it was a no-brainer to go with the Coen Brothers' shaggy dog classic about a burned-out bowler in early '90s Los Angeles who gets caught up in a case of mistaken identity, nihilists, kidnapping, missing toes and overbearing best friends.
"We took a vote with the staff, and 'The Big Lebowski' was a landslide favorite to be the film we picked, which says a lot because our staff is all over the place when it comes to tastes," Logan said. "We have been throwing around the idea of hosting them (Lebowski parties) more often, and who doesn't want to catch that movie a couple of times a year?"
Like any cult movie worth its salt, "Lebowski" devotees are known to watch the film more than just a few times a year. Lebowski fests have popped up across the country, bringing wannabe Dudes and Walters together to roll a few frames, share trivia and sometimes meet their heroes from the film.
The Granada get-together may not boast Liam or the Ralph's checkout girl, but those who come up with the most creative movie-related costumes will take home tickets to future Granada shows, cash and gift cards for concessions.
Doors open at 8 p.m. at the Granada, and tickets are $5 for those 18 and up and $3 for people 21 and up.