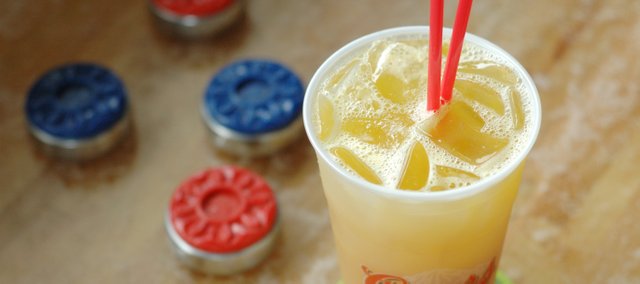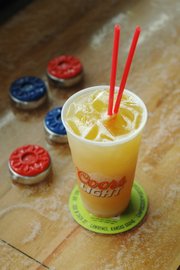 Don't like to taste the alcohol in your drink? This beer cocktail (yes, those are real things) could be your new hot-weather favorite. Along the lines of a summer beer (beer with lemonade and a shot of vodka), the Whipper combines light beer, Southern Comfort, orange juice and pineapple juice over ice in a 24-ounce plastic cup.
Fitting for the Fourth of July, the booze in this drink is an old-school American original. Fun fact from the SoCo website: The whiskey- and fruit-flavored liqueur was renamed Southern Comfort in 1885, but when founder M.W. Heron originally created it in 1874 at a New Orleans saloon, its first name was "Cuffs and Buttons."
The hard stuff: Southern Comfort and beer
Where it's served: Phoggy Dog, 2228 Iowa St.
What it costs: $5
Other libations at this location: Summer drinks including Long Beach Iced Tea (like Long Island Iced Tea with cranberry instead of Coke) and the Blue Hawaiian, a handful of domestic and craft beers and a big menu of "bombs," mostly energy drink with a medley of alcoholic additions. Not sure what to order? Have the bartender spin the $3 shot wheel for you — just be sure you're prepared for it to land on a Rock Lobster, Purple Hooter or something named after a sex act.
— Drink up. Stay classy. Don't forget to tip your bartender. And let us know if you want to suggest a libation for this feature — email sshepherd@ljworld.com or Tweet her at Twitter.com/KCSSara. Cheers.
More like this story on Lawrence.com