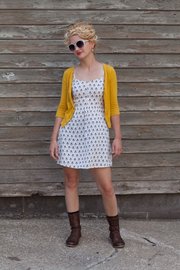 Name: Kari Riley
Age: 30
Relationship status: Dating
Hometown: Kansas City
Time in Lawrence: Just visiting for a special occasion
Occupation: Waitress at Fiorella's Jack Stack Barbecue
Dream job: I really don't know. If I could do anything, I wouldn't do anything!
What were you doing when scouted? Just left a baby shower.
Describe your style: A lot of dresses, especially in the summer. I like a lot of patterns like floral and polka dots. I like a lot of vintage stuff too.
Fashion trends you love: I love people that can pull off hats, especially girls. I really wish I could be one of those people that can fashion hats very well. My hair's too big!
Fashion trends you hate: I really hate high-waisted pants where they go up high in the rear. Nobody looks good in that.
Fashion influences: My boyfriend influences me a lot. I try to keep up with him. I also like watching "Mad Men" for fashion influences.
What would you like to see more of in Lawrence? The good thing about Lawrence is that there is such a crazy-eclectic group of people. It would be sad if everyone dressed one way. It's nice to see different people.
Less of? I wish Mass. Street had a lot more local businesses.
Tattoos or piercings: Yes, my ears and I have a tattoo of shooting stars on my back.
Whom do people say you look like? Oh, I'm so bad with celebrities. Ann something… I'll remember her name later. I just don't pay attention to those people.
Tell us a secret… I'm really a beautiful man and my boyfriend is a really ugly lady!
More like this story on Lawrence.com