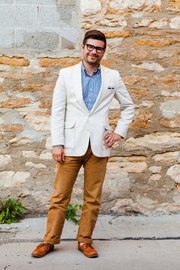 Name: Scott Drummond
Age: 30
Relationship status: Dating
Hometown: Kansas City
Time in Lawrence: I lived here for four years when attending KU
Occupation: Art director. I also do Web design and make comics in my off time.
Dream job: I think it would be a blast to be a full-time freelance illustrator and comic artist.
What were you doing when scouted? Just left a baby shower.
Describe your style: It's sort of like thrift store preppy. I like to find clothes that are nice that I can dress them up or down depending on the situation.
Fashion trends you love: I like anything that can be timeless and that doesn't go out of style.
Fashion trends you hate: I get upset when people under dress for certain occasions like wearing a T-shirt or shorts to a wedding. Basically, I want people to dress correctly for special occasions. I also don't like when people don't dress their age either.
Fashion influences: I like watching "Mad Men." I love all of their clothes. They have just classic stuff!
What would you like to see more of in Lawrence? More local businesses make this town great. Besides that, Lawrence is an open-minded town. Everyone is nice and chill.
Less of? Less corporate chains.
Tattoos or piercings: Yes, I have an industrial pierced earring.
Whom do people say you look like? I've gotten Ben Gibbard but I don't really see it. It's not really very exciting.
Tell us a secret… Nothing comes to mind.