On a recent photography assignment I documented a small film crew shooting scenes around Potter's Lake on the Kansas University campus.
My first inclination was to photograph both the actors and the film crew into my frame. Since I had to stay out of the film, I placed myself behind and to the side of the crew.
Photo Gallery
Behind Lens actress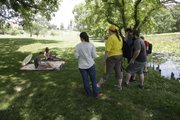 Documenting a scene involving a film crew and actors, chief photographer Mike Yoder was faced with some tricky lighting but photo opportunities with repetitive action.
After studying the visual possibilities further, I changed my mind and concentrated on the performance of one actress only. She appeared to be the lead character and source of most of the action in the film. In choosing how to create my photograph, I recognized several facts about the subject and the scene:
• The actress, film crew and I were in the shade.

• Backgrounds around the shaded actress were in bright sunlight.
• The filming process provided me with repeated action.
I decided to go with the flow and take advantage of all three elements.
To quote a line from the movie "The Truman Show," "We accept the reality of the world with which we are presented." That's appropriate for photojournalists.
So, rather than try to expose for a photograph under the canopy of the shade, which would overexpose all backgrounds in the sun, I chose to go for a silhouette.
I adjusted my camera settings to underexpose the shape of the actress against the bright background. Creating silhouettes is one of many creative devices photographers pull from their bag of tricks.
The funny thing about this technique is that most cameras set to automatic exposure control can create silhouettes without the photographers understanding of what is happening.
My intent was to place the shaded and underexposed form of the actress against the highlighted Potter's Lake and water lilies on the surface.
Next, I selected a position where I could track the actress through the shade and against the water during one of her frolicking scenes. Because the actress performed the scene several times, I could easily determine her route and actions.
Subjects that offer repetitive action like this make it easier for a prepared photographer. Rather than chasing action, I could predict it. With my exposure based on the lake surface, in the sunlight, I then concentrated on a scene where the actress ran slowly along the lake bank.
I was able to capture her in a silhouetted form displaying a free-spirited persona of the film's character.