Delicious
Nothing says "summer" like an ear of sweet corn.
Nothing is more guaranteed to delight any person you might feed than sweet corn. It's a universal love. It's good naked. It doesn't need a thing. A little salt and butter is even better. Usually, that's what I do. Cook it, slap some butter on it, go to town. I just don't often like to adulterate my corn.
We eat sweet corn two or three nights a week when it's in season. And as "purist" as I usually am about it, I sometimes like to mix things up.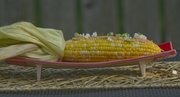 I might toss some into a "salsa" with black beans, fresh tomatoes, onions and cilantro. Or I might roast a few kernels to put atop a green salad. These are the healthy options. But that's not my job here, right?
Sarah has the healthy covered, so let's talk about my not-so-healthy option. Truth be told, this is almost embarrassingly anti-health. But once you try it, you'll understand. This is a rare treat, not to be replicated on a nightly basis. But once in awhile, splurge. Just do it. It's WORTH IT.
My sweet corn with chipotle-lime mayo is a gift from the earth to humans. It's just ridiculously good, and trust me, if you serve this at a party, the crowd will go wild. WILD. The sauce itself is good for many applications: atop a burger, to dip a chip in, to smear underneath some turkey in a wrap — the options are limitless. But smeared on perfectly cooked sweet corn? Have mercy.
Sinful Sweet Corn
6 ears of sweet corn
1 1/2 cups mayonnaise
1 tablespoon chipotle seasoning (just ground stuff, easily found in the spice aisle)
Juice of one lime
Dash of garlic powder
Dash of kosher salt
2 tablespoons diced green onion
Handful of Cotija cheese (white Mexican cheese that crumbles much like feta)
Now, let's talk about cooking the corn. You can do it on the grill, which is a recommended way. Just pop those suckers on the grill over medium heat and keep turning them for about 10 minutes until everything is looking a little toasty and delicious.
But there's also the microwave. I was a skeptic. I really was. But I tried it recently and it might just be the best corn I ever ate. All you do is put the corn, in the husk, into the microwave. It takes about four minutes for the six ears to cook. The husks and silk come off like a dream, and the corn has sort of steamed in its own shell and it literally bursts with sweet flavor. I promise, you will not regret trying this. Plus, the simplicity factor is irresistible to me.
So, cook your corn. Boil, grill, microwave, whatever suits your sensibilities. Pull back the husks and remove the silks. Sometimes when I do this I break the ears in half and stick a bamboo skewer in one end. Festive and makes for great presentation.
Then, stir up the mayo, lime juice, garlic powder and salt.
Slather that stuff on the corn. Don't be shy. Do a lot.
At this point, you can pop the ears into the oven if you want to sort of melt the mayo down into the corn, or you can just move on to the last part, which is sprinkling the Cotija and green onions over everything and digging in.
I'm considering pulverizing some bacon to sprinkle over the next batch I do. Because, as my friend Kiley says, "If bacon and chipotle mayonnaise are wrong, I don't wanna be right."
Nutritious
For about six glorious weeks, local sweet corn is fresh on the table.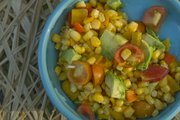 Honestly, you don't need a true recipe from either of us to enjoy this wondrous time. Just boil it or grill it and chow down.
But, this being a food column and all, it seemed right to go ahead and give you something to do after cooking it. You know, just in case you wanted to spice it up over the next few weeks.
If I'm not eating corn on the cob, chances are I'm eating it in a salad. Because what am I but a salad pusher of the highest order.
But this salad isn't so much a salad as it is corn with lots of good stuff added.
Even people who don't like salad will like it.
It's a fantastically basic recipe, meaning you can dress it up or down if you like. It does well with add-ins like black beans, hot sauce, fajita veggies or meat. Have it plain, on tortillas or in lettuce leaves with other Latin-inspired toppings, or even spread it over eggs or crispy potatoes. It works just about anywhere and anyway.
However you have it, you'll get a big dose of fiber and vitamin C from the corn and other veggies, plus good fats from the avocado and olive oil.
Confetti Corn Salad
3 cups cooked corn (about 3 cobs)
1 pint cherry tomatoes, halved or quartered, depending on preference
1 pint mini sweet peppers or 2 large bell peppers, chopped
1 avocado, peeled, pitted and chopped
3 tablespoons (or more) lime juice
1 teaspoon olive oil
1 to 2 cloves (or more) garlic, minced
Salt and pepper to taste
Mix all ingredients in a large bowl. Serves 4 to 6.