You would think from working in the fashion industry and writing a fashion column that I would never be trumped on what to wear every day.
There are always those dreaded days, specifically Mondays, where I stand in front of my overstuffed closet convincing myself that I have absolutely nothing to wear.
I've figured out that it's not that I have nothing to wear — it's my lack of inspiration to create an outfit for the day. As the clock ticks, I continue to panic while trying on outfit after outfit, still with no final decision. Whenever I tend to slide into these fashion ruts, as I call them, I know it's time to gather all the inspiration I can get to get me back on top of my fashion game.
Fashion websites
My first plan of action is to go to my favorite blogs and websites. Although I typically read them on a daily basis, going back through older posts can spark an outfit idea.
I print out outfits that I'm drawn to and compile them into a binder that I continually update with new outfits. This is an easy way to gain inspiration.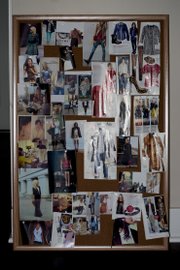 Some may say this is a silly concept, but dressing fashionably is similar to decorating your home. What do you do when you see a cool living room design you might want to copy? You print it out for future reference. The same applies to planning your outfits. If you're truly into fashion like I am, them this is a smart and efficient way to plan out your outfits.
Pinterest is also my go-to fashion inspiration site, but I'm old-school and I still like to print out my favorite looks and throw them into a binder. Buy a cool printed notebook and you can even incorporate it into your home decor on a desk or coffee table.
Fashionable sites I visit regularly:
• Who What Wear is my fashion bible.
• Cupcakes and Cashmere is well-organized so you can easily find many different outfits.
• The Glitter Guide is filled with endless inspiration.
• Atlantic-Pacific always has something unexpected.
• Le Fashion always knows how to wear new and foreign trends.
Fashion magazines
Much like my fashion binder, another way of gathering inspiration is to thumb through my favorite magazines and tear out what I like.
I tear out anything from outfits I want to remake to specific pieces I want to eventually add to my closet. I throw all of my tear-outs onto a cork board that I constantly switch out with new inspiration.
I like the idea of being surrounded constant inspiration, and the cork board is an easy and inexpensive way of achieving that.
I plan to eventually DIY a more presentable corkboard and have it live in an office some day as part of the decor.
My fashion magazines of choice:
• In Style
• Elle
• Vogue
• Redbook
Window shopping
One of my favorite ways to gain fashion inspiration is to window shop.
I love to walk up and down Mass. Street to see the new window displays, and I almost always walk away with new and inspiring outfit ideas.
I usually mosey into the stores and see how the dress forms are outfitted, which instantly gets my fashion juices flowing. When you get out and explore, you never know what you'll find. I have even found outfit ideas from the stylish employees who work in the stores.
While you are window shopping down Mass. Street you might as well sit outside on a patio to people watch. You're guaranteed to find fashion inspiration just by checking out the people strolling down the street.
My favorite stores to gain inspiration:
• Hobbs, 700 Massachusetts St.
• Urban Outfitters, 1013 Massachusetts St.
• Britches, 843 Massachusetts St.
• Spectator's, 710 Massachusetts St.
— Emily Kennedy is one-half of the stylish duo behind The Fashion Column blog she shares with her twin sister, Elizabeth. Emily can be reached at fashioncolumnblog@gmail.com.
More like this story on Lawrence.com