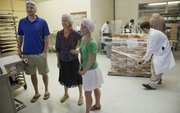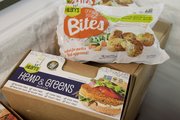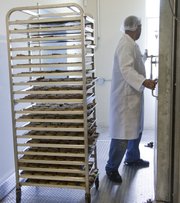 Veggie burger recipes
There are more ways to eat a store-bought veggie burger than simply slapping it on a bun. Hilary's Eat Well shares recipes for the company's products online at hilaryseatwell.com/recipes. Dishes — all meat-free — include Veggie Tacos with Corn-Mango Salsa, Sloppy Joannas, Nacho Typical Nachos!, Stuffed Eggplant and Swedish "Meat" Balls.
Open house
Hilary's Eat Well is playing host to an open house at the company's new facility, 2205 Haskell Ave. The event, which is open to the public, is scheduled from 3 to 7 p.m. July 19. Attendees will be able to meet the staff, see the manufacturing area, enjoy refreshments and taste-test some of the company's creations.
Lawrence diners can't get the World's Best Veggie Burger or an Adzuki Bean Burger with a basket of fries at Local Burger anymore.
Does that mean the vegetarian favorites from the shuttered Vermont Street eatery are gone for good?
Hardly.
Check the freezers in grocery stores nationwide and you'll spot those Lawrence-made patties flying off the shelves. A year after closing her restaurant to focus full-time on retail manufacturing, Hilary Brown's veggie burger business is booming.
Hilary's Eat Well products are now in close to 1,700 stores, and company officials say recent weeks have been their biggest yet — with production at 84,000 burgers a week.
The company has moved from its first manufacturing spot into a new 9,000-square-foot facility at 2205 Haskell Ave., where production got underway about a month ago.
Pausing during a morning of veggie-burger making, packaging and truck-loading at the new plant, production manager Derick Alexander put things in perspective.
"The entire old building could probably fit in our freezer," he said.
But Alexander said he isn't surprised by the company's fast growth.

"Hilary's passion toward her product is crazy," he said. "She can get anyone to eat it, even if they don't like veggies."
Allergen-free eats
After a round of food allergy testing in 2002, Brown learned she was, basically, "allergic to the American diet."
She began researching food and the food system, got excited about the possibilities and signed up for a training course at the Natural Gourmet Institute in New York City. After an internship with renowned chefs Michael Smith and Debbie Gold at their former Johnson County restaurant, 40 Sardines, and a stint working on a farm, Brown opened Local Burger in 2005.
In 2011, the first Hilary's Eat Well production facility — the freezer-sized one — opened in a strip mall on Haskell.
In addition to Local Burger, a handful of Lawrence restaurants were serving Hilary's Eat Well burgers, and Whole Foods signed on to sell the World's Best Veggie and Adzuki Bean burgers — a huge break, especially in a market already laden with veggie burgers.
"They launched our product nationally, which is not common," Brown said of Whole Foods. "It was innovative to that category. The allergen-free market is growing like crazy."
Hilary's Eat Well burgers are virtually everything-free — you won't find a trace of GMO (genetically modified organism), gluten, dairy, soy, corn, yeast, egg or nuts in the house.
Whole Foods also sells the newest Hilary's Eat Well burger, the Hemp and Greens Burger, which went off exclusive last week and will soon be in other stores.
New faces, and more of them
Hilary's Eat Well has multiplied its production 35 times over since its days in the strip mall, where it put out about 2,400 burgers a week. The company also has increased its employees from 11 to more than 20, with a handful of specialists added to the mix.
Jordon Ringel is the numbers guy.
On a tour of the new production plant, the 2007 Kansas University accounting graduate talked capital raises and efficiency while navigating a room crammed with pallets piled high with bags of dry ingredients.
"This is more storage space than we've ever had," Ringel said. "And we're already running low on storage space."
As Brown's co-CEO and the company's CFO, Ringel bought the building housing the new plant, renovated it, added 90 solar panels and began adding new production equipment. Hilary's Eat Well is making a lot of burgers right now but will be able to make even more, faster, once that conveyor belt and automated fryer are in action, he said.
Another new face is Hilary Kass, who's taking on product development and education. She and Brown share the same first name and a lot of common goals when it comes to food.
Kass, who has a master's degree in public health, started Lawrence's Ancient Grains Bakery. Kass expects to work some of her frozen, gluten-free baked goods such as Sunny Millet Toaster Cakes into the Hilary's Eat Well product lineup.
"There was such a similarity in intention," Kass said of her collaboration with Brown. "It now offers Ancient Grains such a fantastic opportunity to grow."
More burgers on deck
Hilary's Eat Well gets the green part of its Hemp and Greens Burger from a grower in Olathe. Brown is trying to line up an area millet producer, too, and hopes to find more local growers in the future, though that likely means working with multiple growers at a time to meet her demand.
The newest Hilary's Eat Well product is Veggie Bites, featuring the original veggie burger recipe in kid-friendly nugget form. In the works are a root vegetable burger and a high-protein burger.
Meanwhile, Ringel is working to line up new clients, with goals of expanding into more conventional grocery stores and lining up more food service customers such as hospital cafeterias and restaurants.
With the new facility's capacity, Brown said, "we can create something if it's got a place to go."